TUESDAYS AT TWILIGHT CONCERT FEATURING WILLY MASON AND GOODNIGHT LOUISE, JULY 15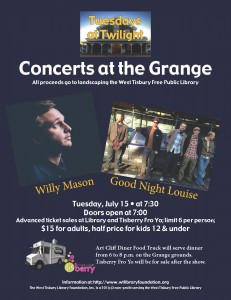 On July 15 there will be a Tuesday's at Twilight concert at the West Tisbury Grange Hall featuring local singer/songwriter Willy Mason and the band Goodnight Louise. The concert is sponsored by the West Tisbury Library Foundation and all proceeds go toward landscaping and protecting the environment around the new West Tisbury Library.
Willy Mason is well known on the national and international music scene. He has toured with Beth Orton, Death Cab for Cutie, Radiohead, KT Tunstall and Mumford and Sons.
Goodnight Louise's music is best described as a folky medley of Americana and blues and they've been a fixture at Vineyard venues for several years.
Doors will open at 7 p.m. and the concert will begin at 7:30 p.m. Tickets may be purchased at the door, advanced tickets may be purchased  at the West Tisbury Free Public Library and at Tisberry Fro Yo on Main St. in Vineyard Haven. Tickets are $15 for adults and half price for kids 12 and under. Limit of six tickets per person.
The Art Cliff Diner food truck will serve dinner from 6—8 p.m. on the Grange grounds and Tisberry Fro Yo will be for sale after the show.
For more information go to http://www.wtlibraryfoundatioun.org.
The West Tisbury Library Foundation, Inc. is a 501(c)3 non-profit serving the West Tisbury Free Public Library.