TUESDAYS AT TWILIGHT CONCERT FEATURING SPOTLIGHT ON YOUTH, AUGUST 12TH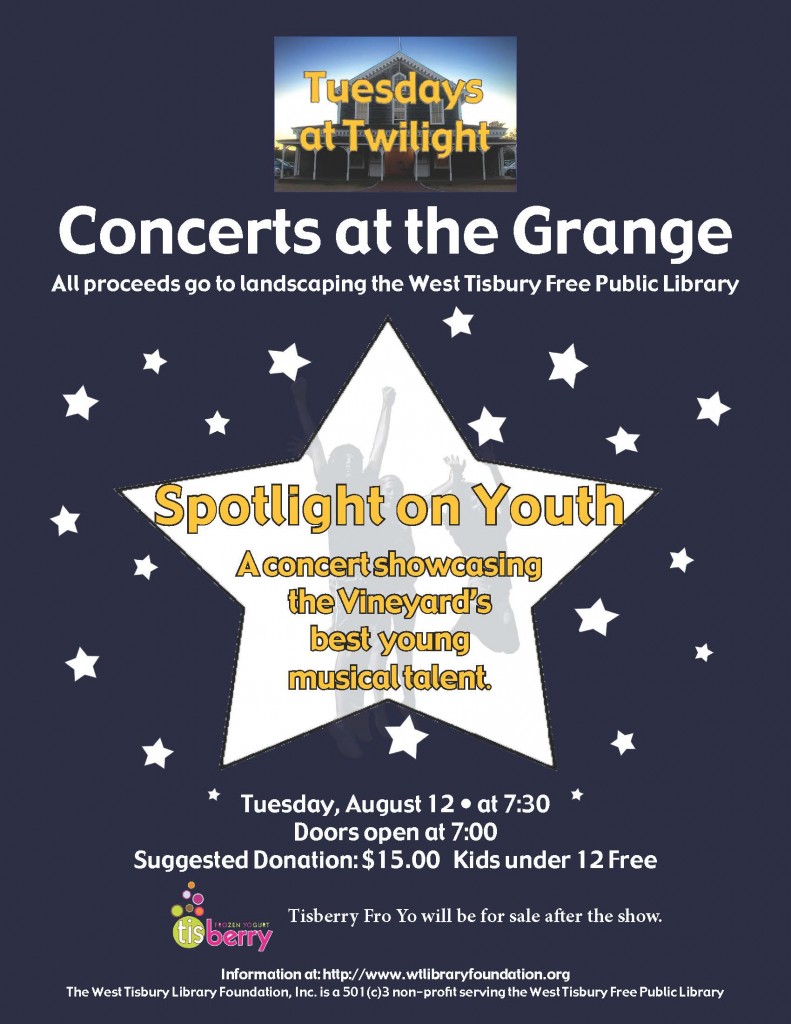 On August 12th, Tuesdays at Twilight at the West Tisbury Grange Hall will present Spotlight on Youth—a  concert showcasing the Vineyard's best new talent. The concert is sponsored by the West Tisbury Library Foundation.  All proceeds go toward landscaping and protecting the environment around the new West Tisbury Library.
The performers for Spotlight on Youth range from 5th grade through high school and have been chosen by their music teachers as the most advanced, talented and hardworking young singers and instrumentalists on the Island.
Doors will open at 7 p.m. and the concert will begin at 7:30 p.m. Tickets may be purchased in advance at the West Tisbury Free Public Library and at Tisberry Fro Yo on Main St. in Vineyard Haven. Tickets are $15 for adults and half price for kids 12 and under. Limit of six tickets per person.
Tisberry Fro Yo will be for sale after the show.
For more information go to http://www.wtlibraryfoundatioun.org or https://www.facebook.com/wtlibraryfoundation.
The West Tisbury Library Foundation, Inc. is a 501(c)3 non-profit serving the West Tisbury Free Public Library.