The Case for a Green Library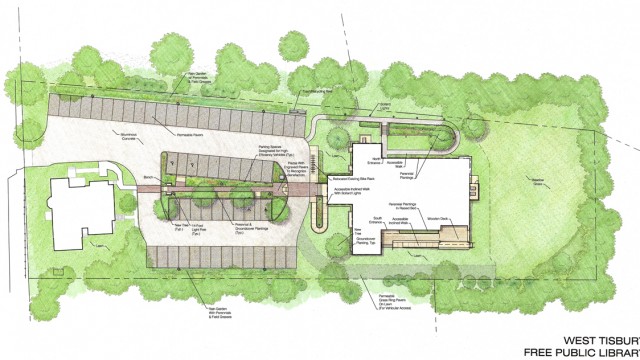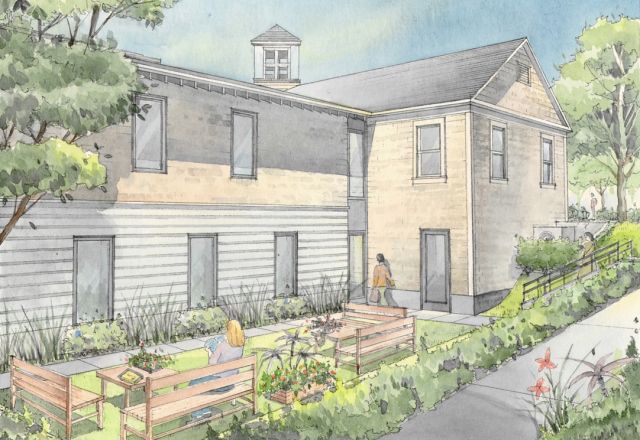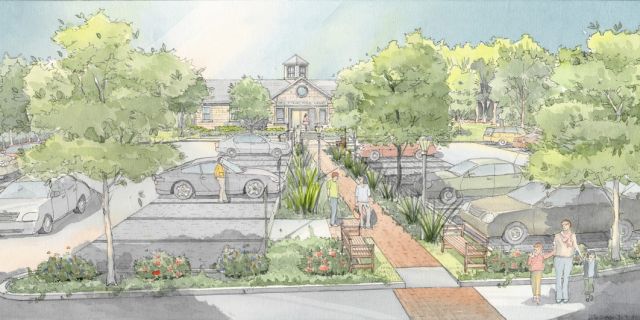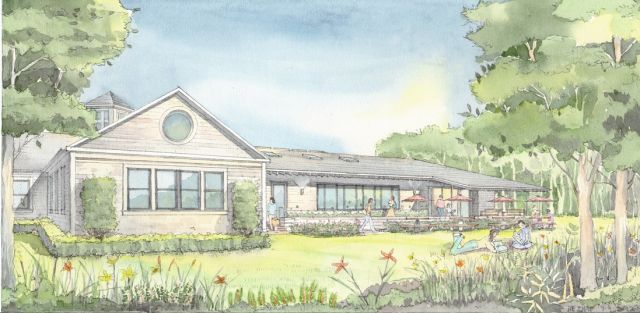 Prev
Next
Protecting the environment is a high priority for the West Tisbury Library expansion project. Resource efficiency, waste reduction, and a healthy environment have been a part of our planning at every step along the way. Minimizing the building's carbon footprint and its demands on Island resources are just the start; there will be also be significant and ongoing savings in operating and maintenance costs over the years.
Energy efficiency and water-protecting technology have already been designed into the building wherever possible. These features will earn the library LEED certification (Leadership in Energy and Environmental Design) from the U.S. Green Building, garnering additional funds from the state and signaling our commitment to environmental care.
But there are three other significant environmental features we could not include under the current budget, features essential to protecting our built and natural environments: an ecologically sensitive parking area, hardwood flooring, and landscaping.
More than a parking lot: A safety net for water
Perhaps surprisingly, parking lot design has a lot to do with water quality as well as patron safety and convenience. The library's parking lot will be surfaced with a combination of standard impervious asphalt (in the drive lanes) and pervious precast concrete pavers (in the parking areas), with a 12-inch stone underlayment and perimeter "rain gardens." These features will diminish the "heat island" effect typical of asphalt parking lots. Moreover, they will reduce concentrations of pollutants and promote rapid, more thorough water filtration, ensuring that the delicate web of wetlands and ponds beginning at the end of the library property and running all the way to the great pond and ocean is free of noxious chemicals and other harmful runoff. There will be a total of 56 spaces, 18 for the Howes House and 38 for the Library. Four of those spaces will be handicapped accessible, with pavers smooth enough for a wheelchair or person with disabilities to walk or roll over safely. Both this evenness and the rapid dispersal of water will also facilitate winter plowing and reduce icing.
Hardwood floors: A smart long-term investment
Sustainability, hygienic material, and lower life-cycle costs make hardwood an economical and environmentally sound choice for the library flooring. Flooring accounts for a high percentage of indoor surfacing, and can have a significant effect on indoor air quality. Finished with low-VOC sealants, (volatile organic compounds), hardwood floors contribute to clean air while providing no habitat for molds and funguses (a Vineyard hazard). Moreover, harvested legally and responsibly, the supply of American hardwoods is actually growing, and locally available products incur lower transportation costs and keep the economic benefits nearby. Finally, although the upfront costs of hardwood are substantially higher than commercial carpeting, its costs over a 15-year period are less than half those of the alternatives.
Caring for the earth, tending the gardens
West Tisbury is home to the Agricultural Society, the Polly Hill Arboretum, the Martha's Vineyard Garden Club, the Farmer's Market, and numerous family farms and nature preserves. Given our rural heritage it's fitting that our library, too, should embrace a respect for nature and love of the landscape. The terraces and gardens to the north, east, south and west of the library provide exceptional opportunities to landscape with native plantings, encourage the growth of beneficial local bees and other insect populations, provide shade and break the wind, firm up the earth and aid in filtration, and beautify the surroundings.
These spaces present opportunities for donors with a passion for gardening and landscaping, especially using native materials and species. Each area is an invitation to create a setting, make a statement, and perhaps remember a special person or favorite cause.
There are opportunities for naming in each of the garden areas as well as in the building itself. Please contact the Foundation for details!
A final word: Teaching by example
More than just a collection of materials, a good library is an ongoing, evolving conversation with the community it serves. That conversation asks questions, proposes challenges, and spurs healthy growth. When the library reopens, its staff will have lived through an experience that changes this town institution forever. They'll be in the unique position to tell the story of every decision, every feature, and the varied reasons for choices made in materials, design and technology.
Our island struggles with the consequences of growth daily, and all construction has a profound impact on the local environment. There are always newer and better ways of building and serving the environment, and having a prominent, publicly accessible example of green construction will be an important resource to owners and builders who would like to explore ways to protect our common home. Our expanded and improved library will be an important teaching resource and living laboratory for the community. Some examples:
• A super-insulated envelope reduces requirements for heating and cooling;
• Composting toilets reduce nitrogen put into the ground;
• Future photovoltaic capacity built into the south-facing roof;
• Skylights and lighting controls improve lighting quality;
• Energy Star appliances reduce energy usage;
• Natural and mechanical ventilation increase occupant comfort;
• VRF heat and air with heat recovery is more efficient than fossil fuel system;
• Low-flow fixtures reduce water consumption 30 – 40% over code;
• Low VOC emitting materials and finishes meet "Green Seal" requirements;
• Recycling and reuse of more than 75% of demolition and construction waste; and
• Rapidly renewable/durable, regional, and recycled materials cut costs and reduce harm to the environment.