2014 Speakeasy
Last Speakeasy for this Year
Thank you to authors John Hough Jr., Ward Just and Paul Schneider, our patrons and State Road Restaurant.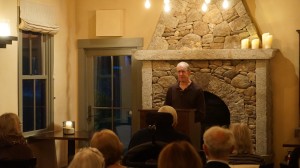 Thank you John Hough, Jr. for a wonderful book talk on "Little Bighorn" at last night's West Tisbury Library Foundation's last Speakeasy of the season. To Mary and Jackson Kenworth (owners of State Road Restaurant) for providing a beautiful venue, lovely appetizers and wine, our gratitude for your ongoing support of the West Tisbury Free Library.
---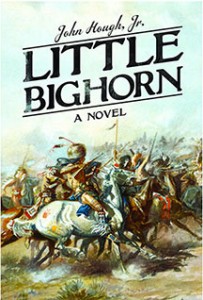 The next Speakeasy will be on October 28 at State Road Restaurant from 5:30 – 7:00.
John Hough Jr., author of five novels including the recently published, "Little Bighorn", will be the featured speaker.
John Hough, Jr's books include Seen the Glory: A Novel of the Battle of Gettysburg, which won the American Library Association's 2010 W. Y. Boyd Award.  His latest novel, Little Big Horn was recently released to critical acclaim:
"Little Bighorn is every bit as remarkable as Larry McMurtry's Lonesome Dove. The characters are vivid, the tension palpable and the dialogue unfeigned. Jon Hough, Jr. is one of the great American novelists alongside Cormac McCarthy and Jonathan Franzen."
-Robert Dugoni, bestselling author of Jury Master, Damage Control and others. 
---
Many thanks to novelist Ward Just ( author of 18 novels, his latest book is "American Romantic," and  historian Paul Schneider (author of five books including most recently "Old Man River: The Mississippi River in North American History") for an delightful and informative evening.
Thank you to everyone, especially Mary and Jackson Kenworth, owners of State Road Restaurant, for hosting a wonderful evening on behalf of the West Tisbury Library Foundation.
---
2014 Speakeasy Series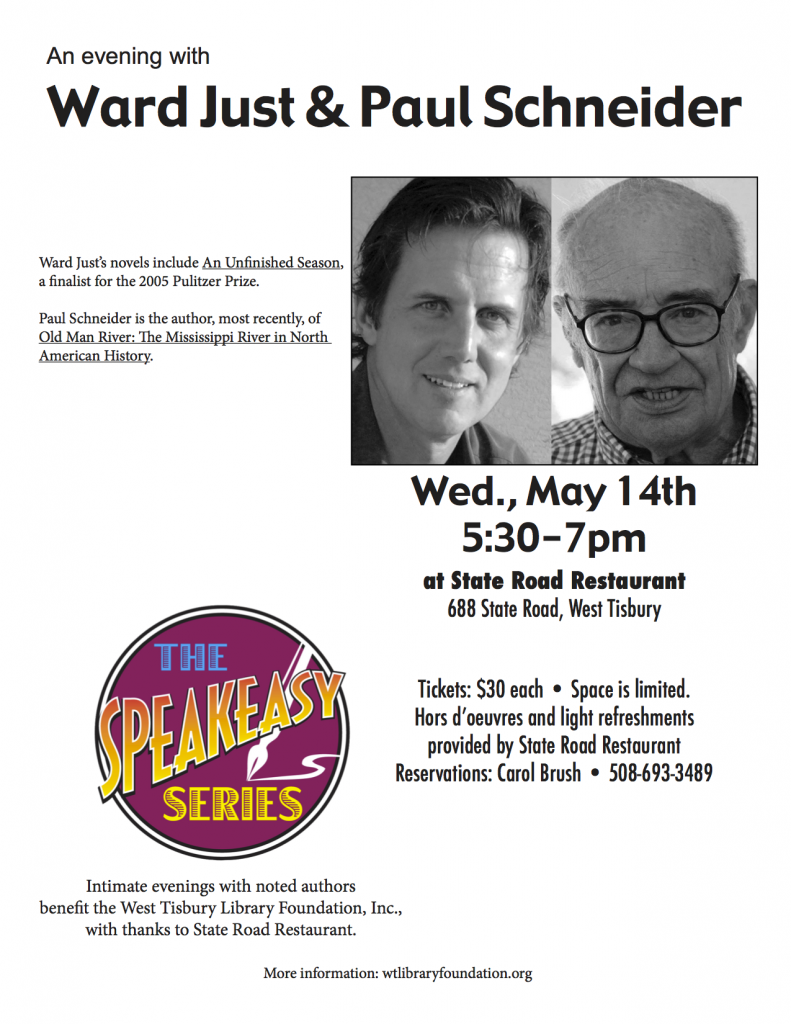 May 14 – West Tisbury Library Foundation presents an evening with authors Ward Just and Paul Schneider. 
Friends and fellow authors, Ward Just and Paul Schneider will participate in a Speakeasy evening on May 14, 5:30-7:00 at State Road Restaurant to benefit the West Tisbury Library Foundation.
Ward Just 
Often compared to Fitzgerald, O'Hara, Wharton, and Hemingway, Just is known for his keen understanding of the nature of ambition and is lauded for his astute observations of the private lives of public people.
Judith Martin wrote in the New York Times Book Review, Just is "not only the most literary chronicler of the daily lives and moral dilemmas of contemporary politicians, bureaucrats, intelligence agents, military officers, diplomats, lawyers, and journalists, but one of the few novelists even interested in picturing such people realistically."
Just comes by such realism honestly.  The son and grandson of newspaper publishers (the Waukegan News-Sun and the Libertyville Independent Register), Just began his writing career in the early 1960s as a journalist, working first for the family newspapers and then at the Chicago, Washington, and London bureaus of Newsweek magazine.  He eventually joined legendary editor Ben Bradlee at The Washington Post, where Bradlee sent Just to Saigon to cover the Vietnam war.  His reporting was considered some of the best to emerge from that arena.  According to David Halberstam, "perhaps no reporter working for a major daily paper wrote as well from Vietnam, with as much subtlety and grace as he did."
But journalism was not in Just's blood the way it must have been for his father and grandfather.  After returning from his two-year stint in Vietnam, Just left The Washington Post to concentrate on writing fiction based on his experiences in both Vietnam and as a political correspondent in Washington.
Just is the author of nineteen books.  He has won National Magazine Awards for nonfiction (1970) and fiction (1980); the Washington Monthly Award for political fiction (1973); the Chicago Tribune Heartland award (1989); was finalist for the National Book Award for fiction (1997); received a book of the year citation from the New York Times (1999) and a notable book citation from the American Library Association (1999); and was nominated for the Pulitzer Prize for fiction in 2005 for An Unfinished Season.
Paul Schneider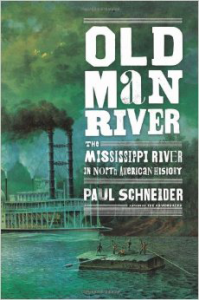 Paul Schneider is the author, most recently, of Old Man River: The Mississippi River in North American History (Henry Holt, 2013), which Publisher's Weekly, in a starred review, called "an astonishing journey." He is also the author of Bonnie and Clyde: the Lives Behind the Legend, (Henry Holt, 2009), which the LA Times called "extraordinarily immediate," and O, the Oprah Magazine said was "a biography so real it feels like an act of ventriloquism."  He is also the author of the widely acclaimed Brutal Journey: Cabeza de Vaca and the Epic first crossing of North America, The Enduring Shore: A History of Cape Cod, Martha's Vineyard, and Nantucket, and The Adirondacks: A History of America's First Wilderness, which was a New York Times Notable book of the year.  Paul is currently Editor  of Martha's Vineyard Magazine.
The May 14th  Speakeasy with Ward Just and Paul Schneider begins at 5:30 p.m. and will be held at State Road Restaurant, 688 State Road, West Tisbury. Hors d'oeuvres and light refreshments will be served. The price per ticket is $25 per person. Space is limited, so early booking is advised. For more information, or to make reservations, call Carol Brush: 508-693-3489.
The West Tisbury Library Foundation, Inc. was incorporated "to promote and advocate for the expansion, improvement, maintenance and support of the library buildings, collections, programs and services of the West Tisbury Free Public Library."