By Brittany Bowker – Jun 29, 2016
"We're going to play a game over the phone," 16-year-old Nat Lawson of Rockport, Maine, said as he prepared to read my mind. And without giving anything away: He did just that. Using a series of psychological techniques and voice analysis, from 300 miles away, the young entertainer carried out a feat of mentalism.
Mentalism is defined as the use of psychological, hypnotic, and intuitive principles to read minds and influence decisions. Mr. Lawson will bring his newest show, "Perceptions," to the Grange Hall in West Tisbury on Tuesday, July 5, at 7:30 pm, presented by the West Tisbury Library Foundation. -MORE-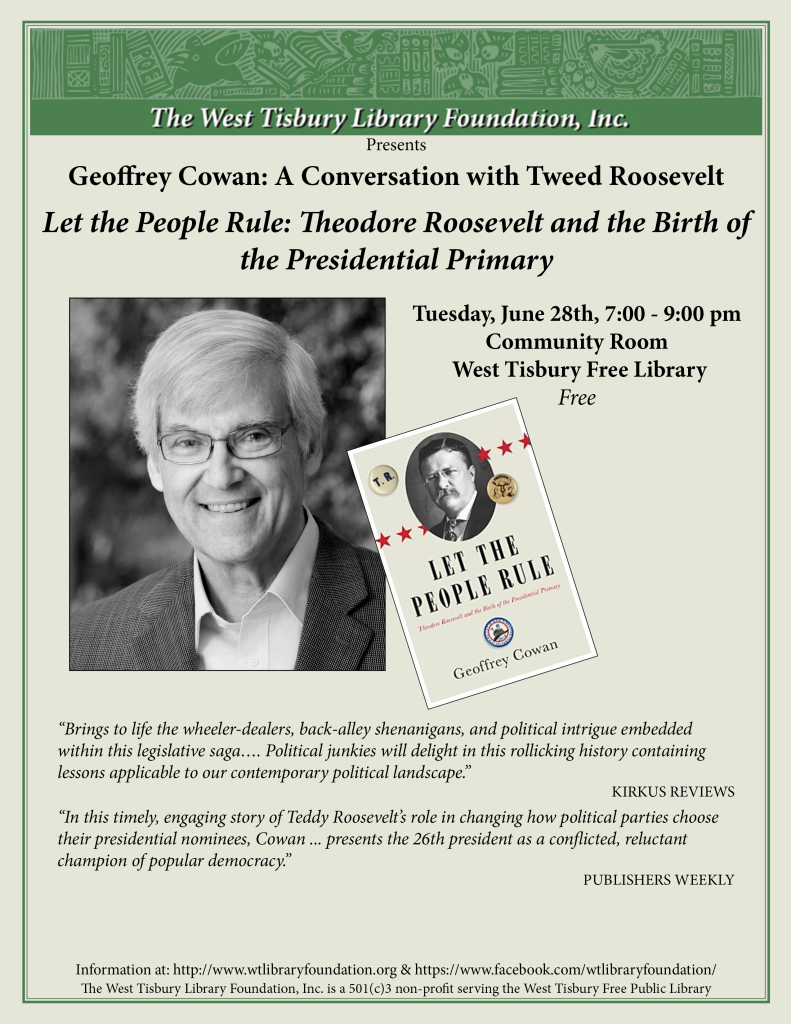 The West Tisbury Library Foundation presents: Geoffrey Cowan: A conversation with Tweed Roosevelt, on June 28 at 7:00 pm at the Grange Hall in West Tisbury. Definitely mark this one on your calendar. Mr. Cowan will speak about his newly published and well-reviewed book, Let the People Rule: Theodore Roosevelt and the Birth of the Presidential Primary. He will then have a conversation with Tweed Roosevelt, president of the Theodore Roosevelt Association and great-grandson of President Theodore Roosevelt. For his role in dramatically increasing the number of presidential primaries in 1968, ABC Television News called Geoffrey Cowan "the man who did more to change Democratic Conventions than anyone since Andrew Jackson started them." Given the timing of our current primary season this should be a spirited and illuminating evening.
Tickets $35.00, available at the West Tisbury Library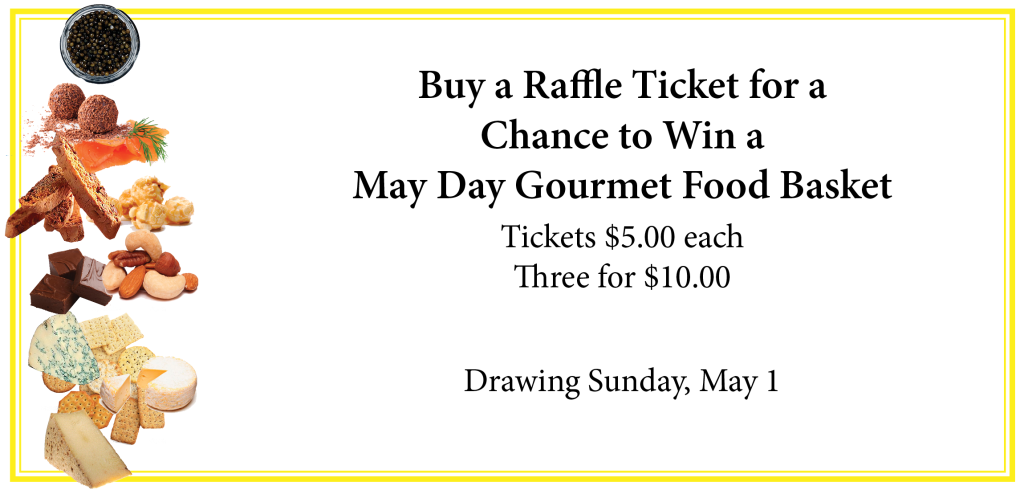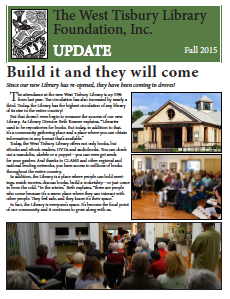 Click on the above image to read the Fall Newsletter.
Discover the many activities of our wonderful library.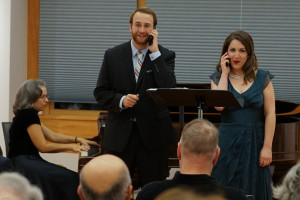 In the fall of 2013 Diane Katzenberg Braun founded Music Street Muscians, an organization that brings high level classical music performances to institutions. On October 30, Music Street presented a live opera sung by Boston current opera stars, soprano Bethany Worrell and baritone Vincent Turregano. They were accompanied by collaborative pianist Diane Katzenberg Braun. The evening presented a range from beloved well known arias and duets to some contemporary operas. A beautiful operatic journey of exquisite voices and wonderful acting. The evening began with Vincent Turregano entering from the back of the room with a pumpkin singing Hansel and Gretel. Then on to Tannhaüser, followed by the seducer Don Giovanni to scheming Gianni Schicchi to ambitious Richard Nixon (sandwiching favorites such as Il barber di Siviglia, La Boheme and more). The performance finished with Menotti's The Telephone. These highly polished professional performances delighted the full house of music lovers, it was a spectacular evening!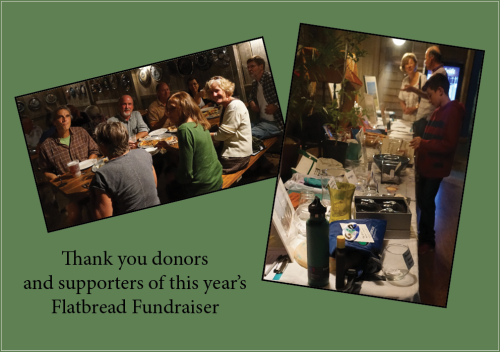 The West Tisbury Library Foundation is grateful to the live and silent auction donors:
Randi Baird
Beach House
Cape Air
Claire Chalfoui
Chris Fischer
Green Room
Debbie Hale
Juliska
Cathy Minkiewicz
Wendy Nierenberg
Nochi
Oakleaf Landscape
Polly Hill Arboretum
Rainy Day
Alison Shaw
Max Skjöldebrand
Kenny Vincent
Vineyard Vines
Allen Whiting
Week on Nevis  (anonymous)
~
Thank you to all participants for your sense of fun and for your support.
 ~
Special thanks to Flatbread Pizza for your generosity and to the staff for all your help.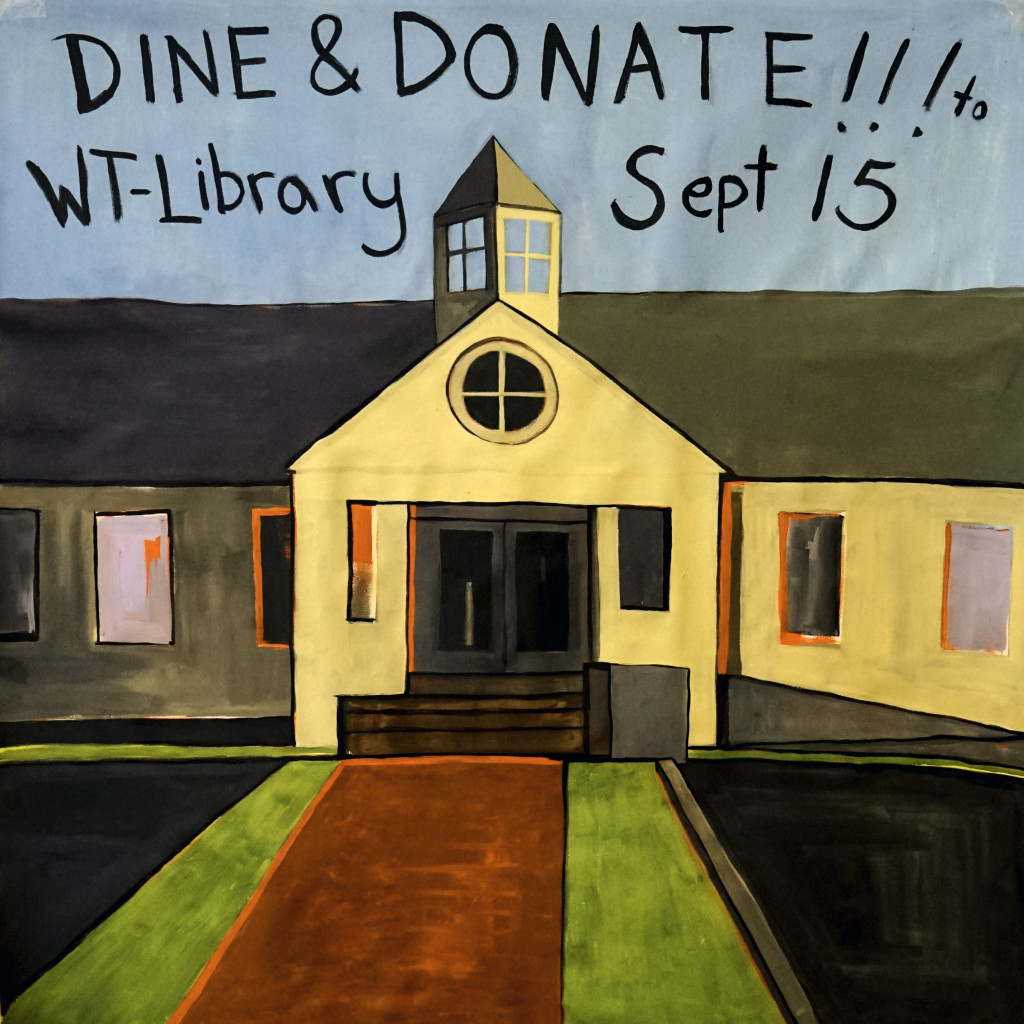 On Tuesday, September 15th, Flatbread will hold a benefit night for the West Tisbury Library Foundation.
The West Tisbury Library will receive $3.50 for every large pizza, and $1.75 for each small pizza sold.
Takeout starts at 2 p.m. – the dining room opens at 4.
Silent Auction! 
4-8:00 p.m.
Photo shoot Randi Baird… exquisite hand-made quilt… Cape Air tickets… signed Beetlebung Farm cookbook from Chris Fischer… children's items from Rainy Day… 1/2 day Lebanese food cooking class with Claire Chalfoui… and much more, including a raffle and 50/50 cash drawing!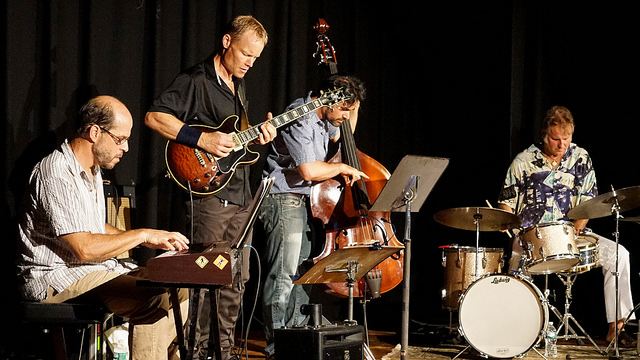 The final Tuesdays at Twilight concert at the Grange Hall in West Tisbury was held on August 18. The Berlin/Johnson Jazz Duo and Friends played a marvelous medley of jazz originals, standards and interpretations
The evening opened with an original composition by Eric Johnson on guitar and Jeremy Berlin on keyboards which set a harmonious aura for the evening. They were joined by Joshua Levine on acoustic bass, he underscored and enriched each piece. The final member of the group, drummer Taurus Biskis entered the stage with a blistering display which polished the evening. The group as a whole played with great balance, a great evening for jazz appreciation.
To see more photographs click HERE:
The West Tisbury Library Foundation thanks Jemima James, The Riveters and Good Night Louise for a great concert! The audience appreciated the catchy beats, the lyrics and the sound of music that was not over amplified (a refreshing change). It was a night of perfectly sung and perfectly played music.