Nat Lawson isn't a hypnotist, a psychic, or a mind reader. He's a cognitive entertainer, and he's the only one in the world.
Seventeen-year-old Lawson is bringing his brand-new show to the Grange Hall this Tuesday, August 8, at 7:30 pm, presented by the West Tisbury Library Foundation. The show is called "Anomaly" — a fitting title for a one-of-a-kind entertainer.
"'Anomaly' is the first cognitive entertainment show in the world," Lawson said in an interview with The Times. "It uses an integration of hypnosis, memory techniques, influenced readings, rapid calculation, and some other fun stuff that you have to see the show to find out about." more

Mike Benjamin Band will kick off Tuesdays at Twilight musical series
On Tuesday, July 25, the Mike Benjamin Band will open the Tuesdays at Twilight series at the West Tisbury Grange with a dance for all ages. The event is sponsored by the West Tisbury Library Foundation, with proceeds going toward the library's programming and landscaping.
A year-round Vineyard resident and the father of two, Mike Benjamin has played with performers such as Susan Tedeschi, James Taylor, the David Letterman Band, and the Blues Brothers. He was the lead guitarist and singer for the Boston Music Award winning band Entrain, and he plays with the Grateful Dread. In the studio, he has worked with Mark Cohn, Delbert McClinton, Patti LaBelle, and Carly Simon.
The Mike Benjamin Band has provided live music for weddings and other major private events on the Island, Cape Cod, and all over the United States. They have performed at private events for President Clinton, Seth Meyers, Ted Danson, Mary Steenburgen, and many other luminaries. The band's focus is always multi-generational and family-friendly.
Doors open at 7 pm and the concert begins at 7:30 pm. Tickets may be purchased in advance at the West Tisbury Library. Admission is $15 for adults, $7 for kids 12 and under. The Art Cliff Diner food truck will serve dinner from 6 to 8 pm on the Grange grounds.
Photographs by Dan Waters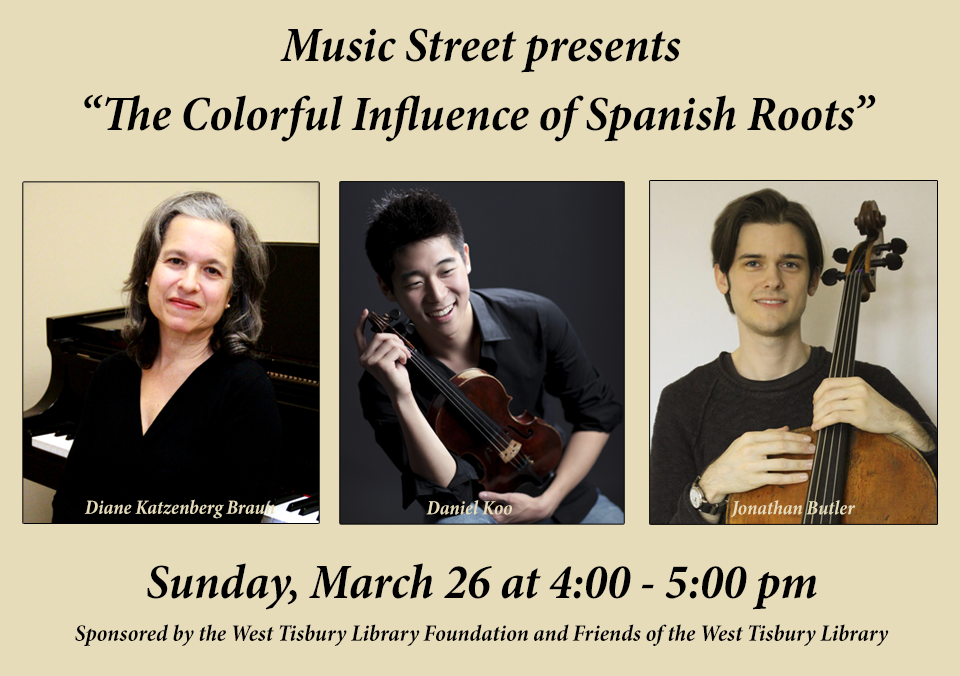 On Sunday,  March 26th there was a special concert with Music Street musicians sharing their love of the sensual music of Turina, DeFalla, Piazzolla, Ponce, Ginastera and Casado. This concert was performed by pianist Diane Katzenberg Braun, violinist Daniel Koo and cellist Jonathan Butler. Refreshments were served. This event was free and open to the public.
Diane Katzenberg Braun is the founder of Music Street in Cambridge, Massachusetts. In addition to being a pianist, Diane is a member of the Alumni Council of New England Conservatory and a board member of the Martha's Vineyard Chamber Music Society. Daniel Koo is a chamber musician, soloist and concertmaster around the world. He is pursuing his Masters degree at the New England Conservatory. Jonathan Butler is a cellist who has been recognized by the Boston Globe for his commitment to music. He is a doctoral student at the New England Conservator.

Peter Kramer

Thank you Peter Kramer and Sherm and Susie Goldstein for a delightful and informative Speakeasy.
The WTLF began this season's Speakeasy Series last night at the lovely home of Susie and Sherm Goldstein.  Thirty five guests listened to Dr Peter Kramer discussing his latest book, "Ordinarily Well: The Case for Antidepressants".  It was an evening of intelligent discourse and delicious food, prepared by Kate Suval and the Goldsteins.
Peter D. Kramer is the author of seven books, including "Against Depression, Should You Leave?", the novel "Spectacular Happiness", and the international and New York Times bestseller "Listening to Prozac". He has appeared on news and talk shows, including Today, Good Morning America, Oprah, Charlie Rose, and Fresh Air. His essays, op-eds, and book reviews have appeared in the New York Times, Wall Street Journal, Washington Post, Slate, Times Literary Supplement, and elsewhere. Dr. Kramer lives and practices psychiatry in Providence, Rhode Island, where he is a professor at Brown University. Peter has been associated with the Vineyard since the 1970's, when he had medical school placements with Russ Hoxsie and Milton Mazer. His novel "Spectacular Happiness" was a nominee for One Book, One Island.
Last Tuesdays @ Twilight of the 2016 Season

The West Tisbury Library Foundation presents Spotlight on Youth, a concert showcasing the Vineyard's best young musical talent. It's a Tuesdays@Twilight concert and it will be held at 7:30 pm on August 2 at the Grange Hall in West Tisbury. This concert is becoming a summer tradition and it's a wonderful, entertaining evening the whole family can enjoy. In a word, these kids are amazing! Adults $15, children under 12, $7. Tickets available at the West Tisbury Free Library. And Smoak will serve dinner from 6 to 8 pm.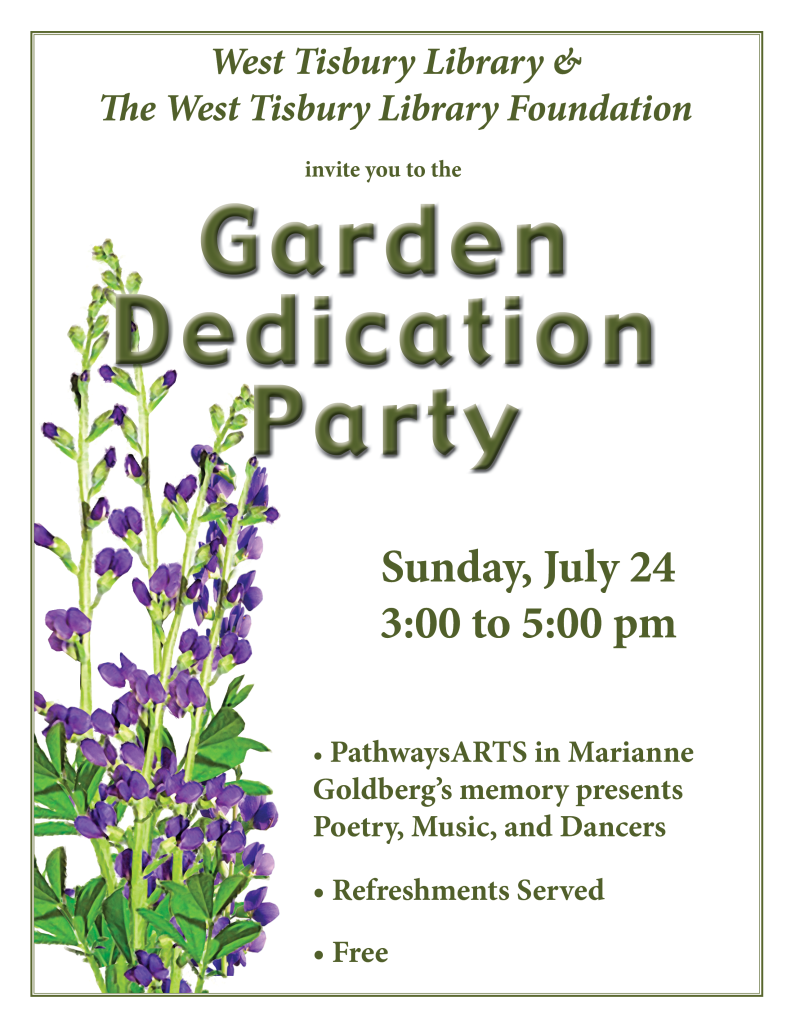 A Garden Dedication Party, presented by the West Tisbury Library and the West Tisbury Library Foundation, Sunday, July 24 from 3 to 5 pm. This should be wonderful afternoon to get together with friends and neighbors and celebrate the beautiful new gardens at the Library. There will be live music and dance performances from Pathways. It's open to the public and it's free!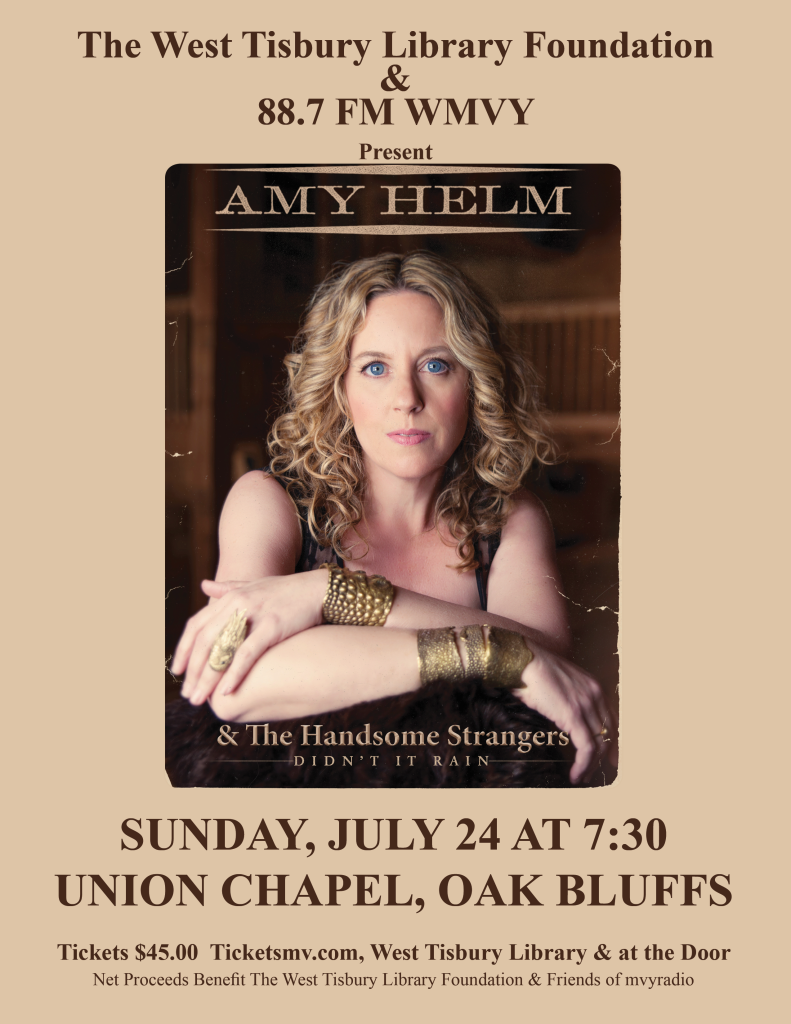 The West Tisbury Library Foundation and 88.7 FM WMVY present Amy Helm in concert on Sunday, July 24 at the Union Chapel, in Oak Bluffs. The performance begins at 7:30. Tickets are $45 and are available at ticketsmv.com, the West Tisbury library and at the door. Net proceeds benefit the West Tisbury Library Foundation and Friends of mvyradio. Amy Helm is the daughter of Levon Helm and singer/songwriter Libby Titus  and her debut solo album, "Didn't It Rain," was voted #8 Best Album of 2015 on WMVY. This will be one of the best concerts of the summer!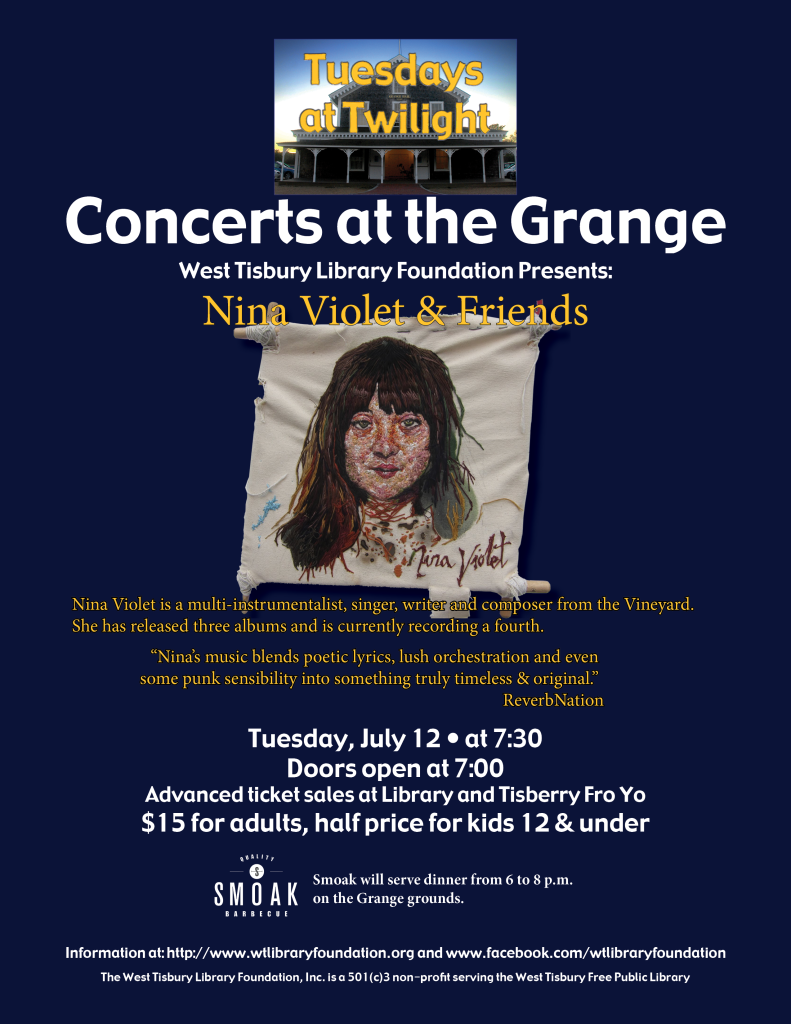 The West Tisbury Library Foundation presents Nina Violet and Friends at Tuesdays@ Twilight, July 12 at the Grange Hall in West Tisbury. Nina is an Island treasure;  she plays guitar, banjo, mandolin and keyboards and she's bound to have a lot of your favorite local musicians on hand backing her up. Show starts at 7:30. Advanced ticket sales at the Library and Tisberry Fro Yo. $15 for adults, half price for kids 12 & under. And Smoak will be serving dinner.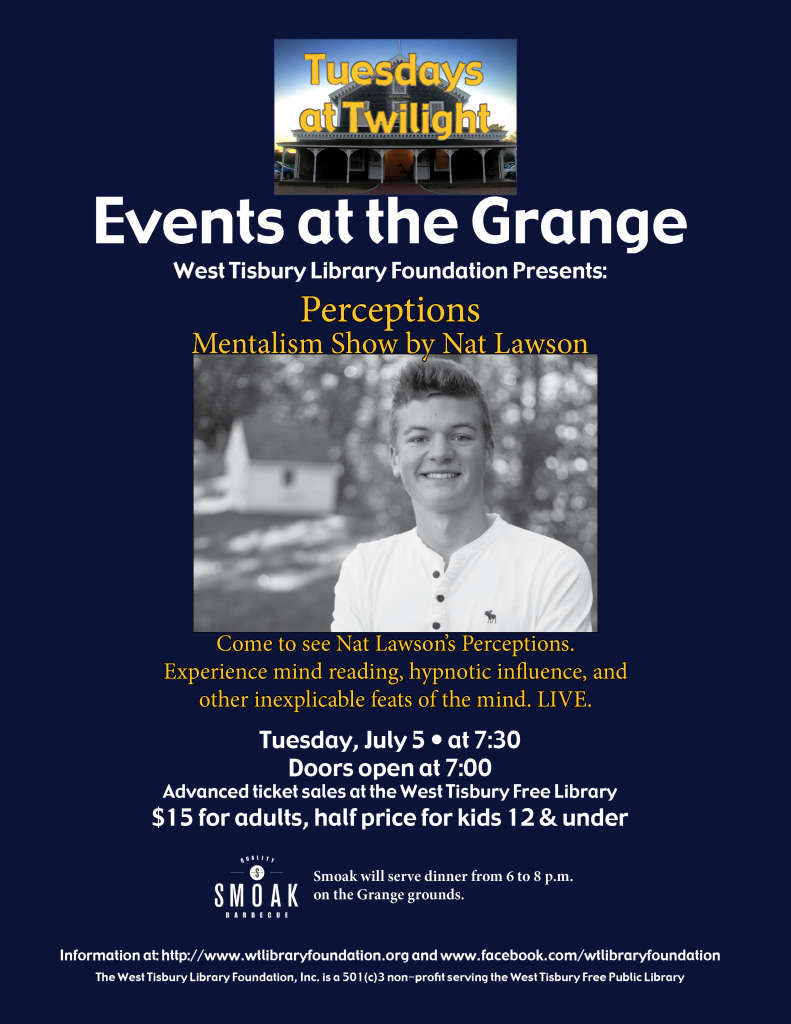 Inexplicable feats of the mind! On Tuesday, July 5, the West Tisbury Library Foundation presents,  Tuesdays @ Twilight – Nat Lawson, Mentalist. Nat's stage show, Perceptions, includes mind reading, hypnotic influence and other inexplicable feats of the mind. Sixteen-year-old Nat Lawson has performed in five countries. If you have never heard of mentalism (or even if you have) you are in for an exceptional experience. And Smoak will serve dinner from 6 to 8 pm. Bring the kids, it's going to be a blast.
Learn more about Nat, MV Times article: http://www.mvtimes.com/2016/06/29/nat-lawson-performs-feats-mentalism/
Tickets $15.00, 12 and under $7.00. Available at the West Tisbury Free Library