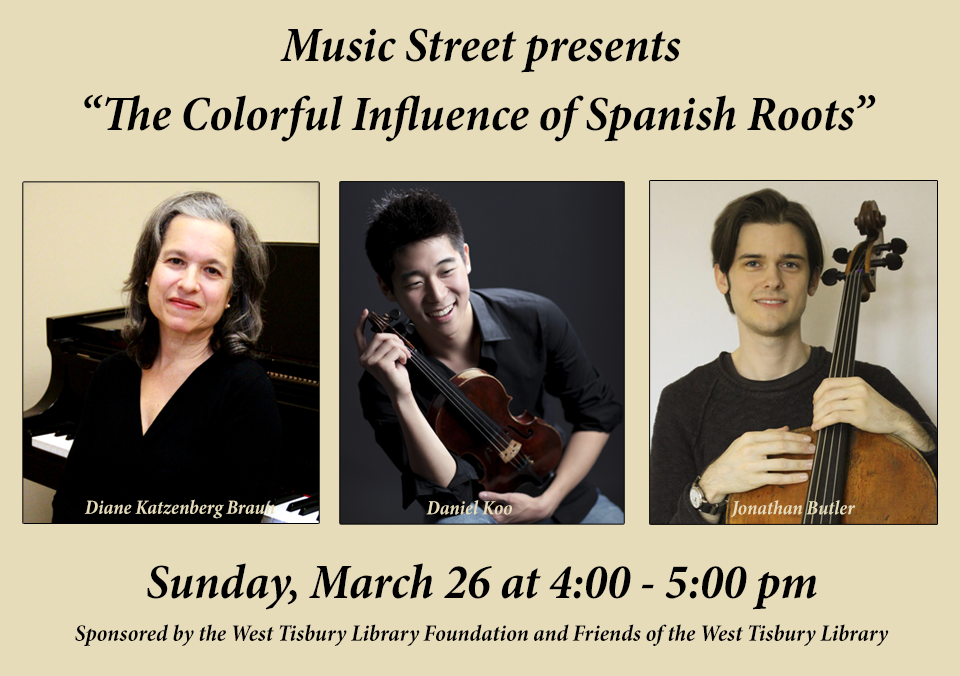 On Sunday,  March 26th there was a special concert with Music Street musicians sharing their love of the sensual music of Turina, DeFalla, Piazzolla, Ponce, Ginastera and Casado. This concert was performed by pianist Diane Katzenberg Braun, violinist Daniel Koo and cellist Jonathan Butler. Refreshments were served. This event was free and open to the public.
Diane Katzenberg Braun is the founder of Music Street in Cambridge, Massachusetts. In addition to being a pianist, Diane is a member of the Alumni Council of New England Conservatory and a board member of the Martha's Vineyard Chamber Music Society. Daniel Koo is a chamber musician, soloist and concertmaster around the world. He is pursuing his Masters degree at the New England Conservatory. Jonathan Butler is a cellist who has been recognized by the Boston Globe for his commitment to music. He is a doctoral student at the New England Conservator.

Peter Kramer

Thank you Peter Kramer and Sherm and Susie Goldstein for a delightful and informative Speakeasy.
The WTLF began this season's Speakeasy Series last night at the lovely home of Susie and Sherm Goldstein.  Thirty five guests listened to Dr Peter Kramer discussing his latest book, "Ordinarily Well: The Case for Antidepressants".  It was an evening of intelligent discourse and delicious food, prepared by Kate Suval and the Goldsteins.
Peter D. Kramer is the author of seven books, including "Against Depression, Should You Leave?", the novel "Spectacular Happiness", and the international and New York Times bestseller "Listening to Prozac". He has appeared on news and talk shows, including Today, Good Morning America, Oprah, Charlie Rose, and Fresh Air. His essays, op-eds, and book reviews have appeared in the New York Times, Wall Street Journal, Washington Post, Slate, Times Literary Supplement, and elsewhere. Dr. Kramer lives and practices psychiatry in Providence, Rhode Island, where he is a professor at Brown University. Peter has been associated with the Vineyard since the 1970's, when he had medical school placements with Russ Hoxsie and Milton Mazer. His novel "Spectacular Happiness" was a nominee for One Book, One Island.
Last Tuesdays @ Twilight of the 2016 Season

The West Tisbury Library Foundation presents Spotlight on Youth, a concert showcasing the Vineyard's best young musical talent. It's a Tuesdays@Twilight concert and it will be held at 7:30 pm on August 2 at the Grange Hall in West Tisbury. This concert is becoming a summer tradition and it's a wonderful, entertaining evening the whole family can enjoy. In a word, these kids are amazing! Adults $15, children under 12, $7. Tickets available at the West Tisbury Free Library. And Smoak will serve dinner from 6 to 8 pm.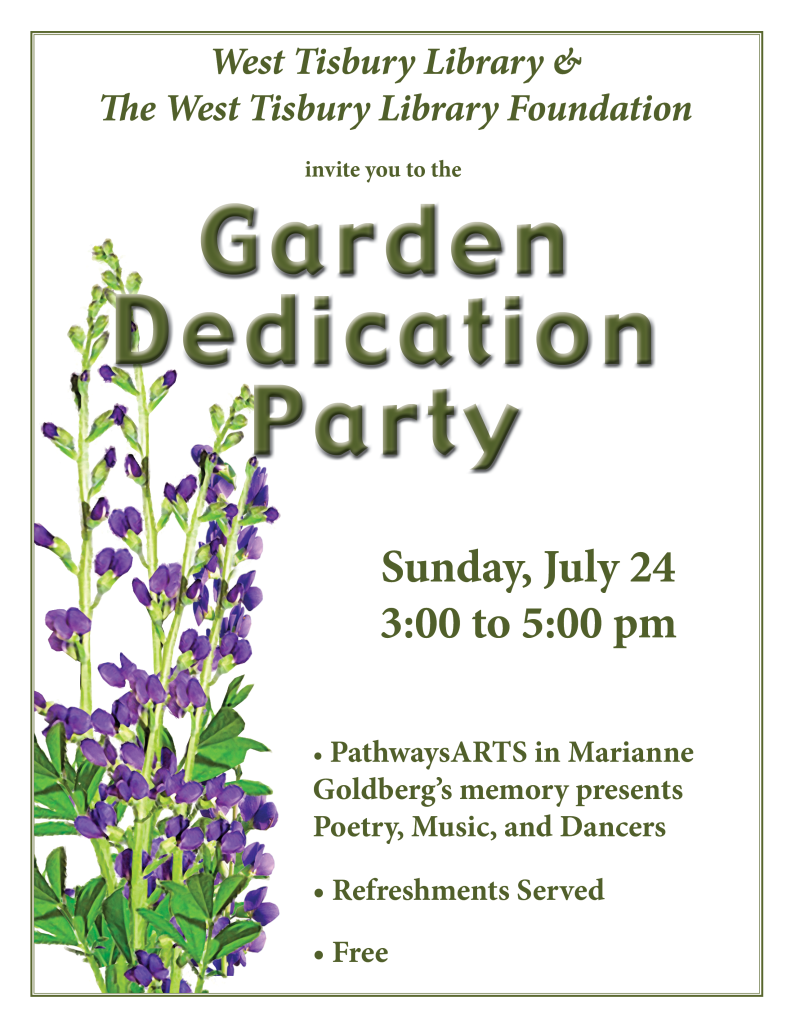 A Garden Dedication Party, presented by the West Tisbury Library and the West Tisbury Library Foundation, Sunday, July 24 from 3 to 5 pm. This should be wonderful afternoon to get together with friends and neighbors and celebrate the beautiful new gardens at the Library. There will be live music and dance performances from Pathways. It's open to the public and it's free!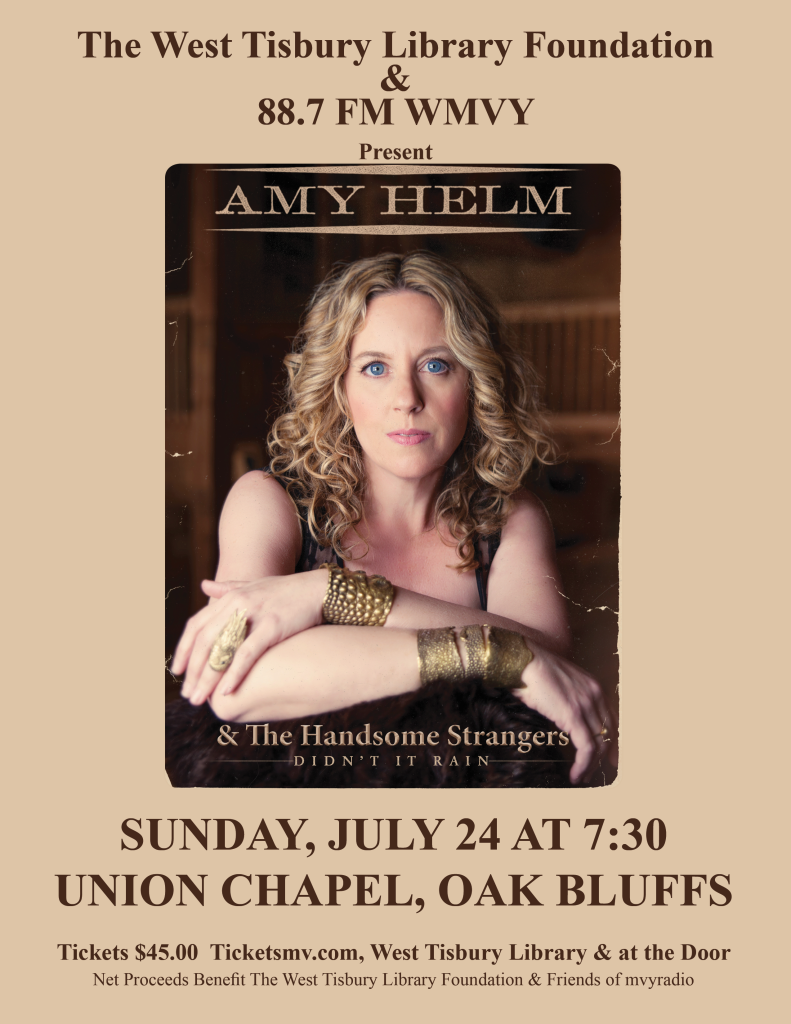 The West Tisbury Library Foundation and 88.7 FM WMVY present Amy Helm in concert on Sunday, July 24 at the Union Chapel, in Oak Bluffs. The performance begins at 7:30. Tickets are $45 and are available at ticketsmv.com, the West Tisbury library and at the door. Net proceeds benefit the West Tisbury Library Foundation and Friends of mvyradio. Amy Helm is the daughter of Levon Helm and singer/songwriter Libby Titus  and her debut solo album, "Didn't It Rain," was voted #8 Best Album of 2015 on WMVY. This will be one of the best concerts of the summer!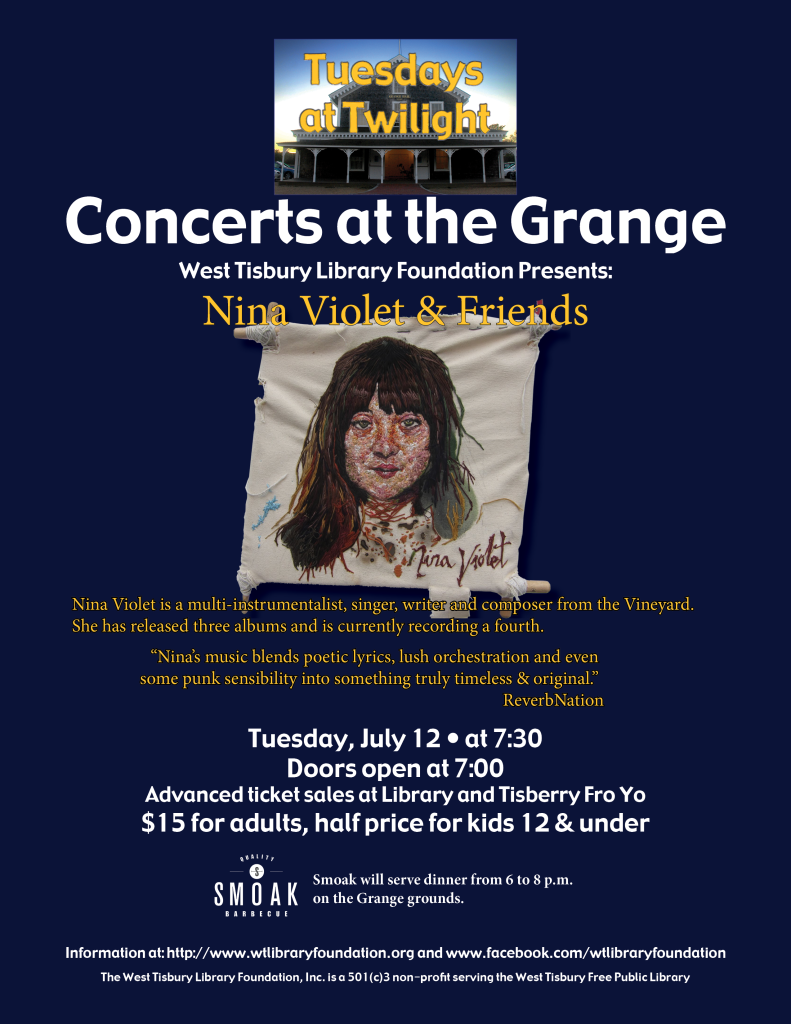 The West Tisbury Library Foundation presents Nina Violet and Friends at Tuesdays@ Twilight, July 12 at the Grange Hall in West Tisbury. Nina is an Island treasure;  she plays guitar, banjo, mandolin and keyboards and she's bound to have a lot of your favorite local musicians on hand backing her up. Show starts at 7:30. Advanced ticket sales at the Library and Tisberry Fro Yo. $15 for adults, half price for kids 12 & under. And Smoak will be serving dinner.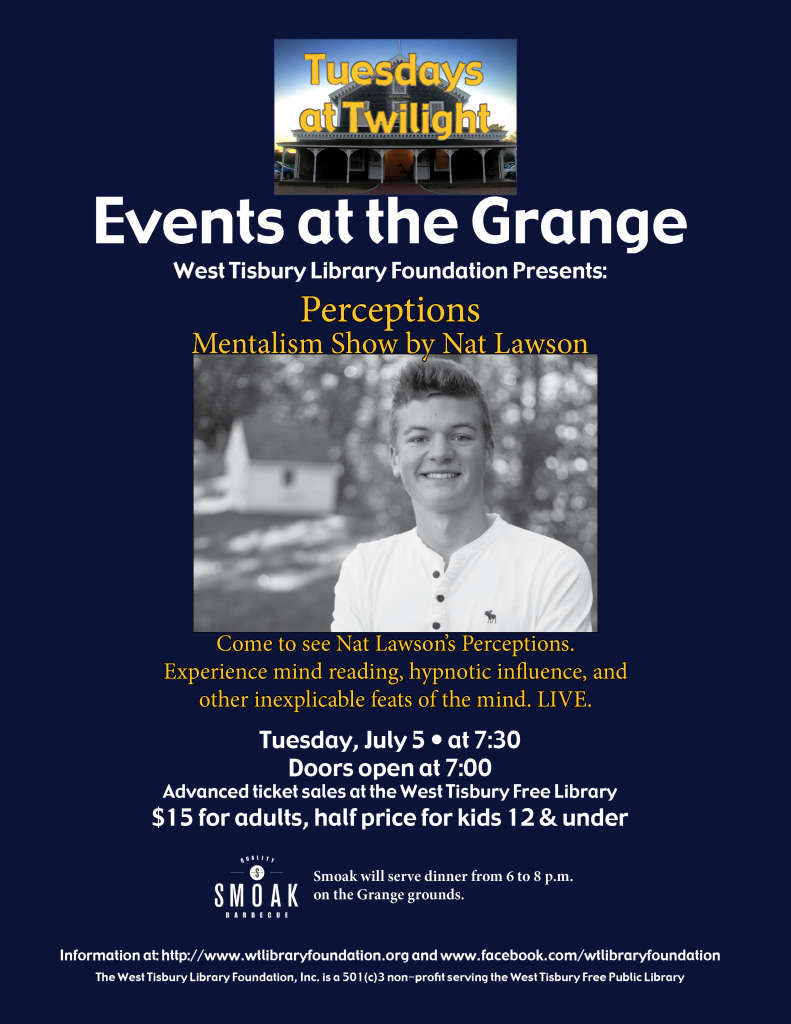 Inexplicable feats of the mind! On Tuesday, July 5, the West Tisbury Library Foundation presents,  Tuesdays @ Twilight – Nat Lawson, Mentalist. Nat's stage show, Perceptions, includes mind reading, hypnotic influence and other inexplicable feats of the mind. Sixteen-year-old Nat Lawson has performed in five countries. If you have never heard of mentalism (or even if you have) you are in for an exceptional experience. And Smoak will serve dinner from 6 to 8 pm. Bring the kids, it's going to be a blast.
Learn more about Nat, MV Times article: http://www.mvtimes.com/2016/06/29/nat-lawson-performs-feats-mentalism/
Tickets $15.00, 12 and under $7.00. Available at the West Tisbury Free Library
By Brittany Bowker – Jun 29, 2016
"We're going to play a game over the phone," 16-year-old Nat Lawson of Rockport, Maine, said as he prepared to read my mind. And without giving anything away: He did just that. Using a series of psychological techniques and voice analysis, from 300 miles away, the young entertainer carried out a feat of mentalism.
Mentalism is defined as the use of psychological, hypnotic, and intuitive principles to read minds and influence decisions. Mr. Lawson will bring his newest show, "Perceptions," to the Grange Hall in West Tisbury on Tuesday, July 5, at 7:30 pm, presented by the West Tisbury Library Foundation. -MORE-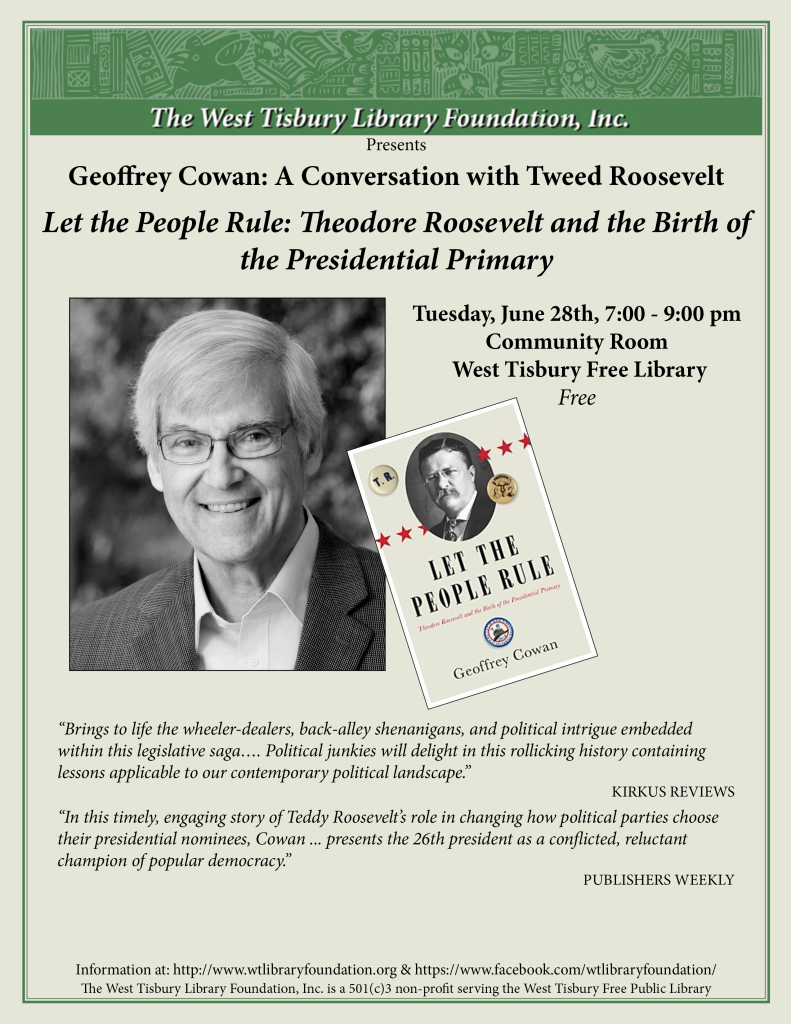 The West Tisbury Library Foundation presents: Geoffrey Cowan: A conversation with Tweed Roosevelt, on June 28 at 7:00 pm at the Grange Hall in West Tisbury. Definitely mark this one on your calendar. Mr. Cowan will speak about his newly published and well-reviewed book, Let the People Rule: Theodore Roosevelt and the Birth of the Presidential Primary. He will then have a conversation with Tweed Roosevelt, president of the Theodore Roosevelt Association and great-grandson of President Theodore Roosevelt. For his role in dramatically increasing the number of presidential primaries in 1968, ABC Television News called Geoffrey Cowan "the man who did more to change Democratic Conventions than anyone since Andrew Jackson started them." Given the timing of our current primary season this should be a spirited and illuminating evening.
Tickets $35.00, available at the West Tisbury Library