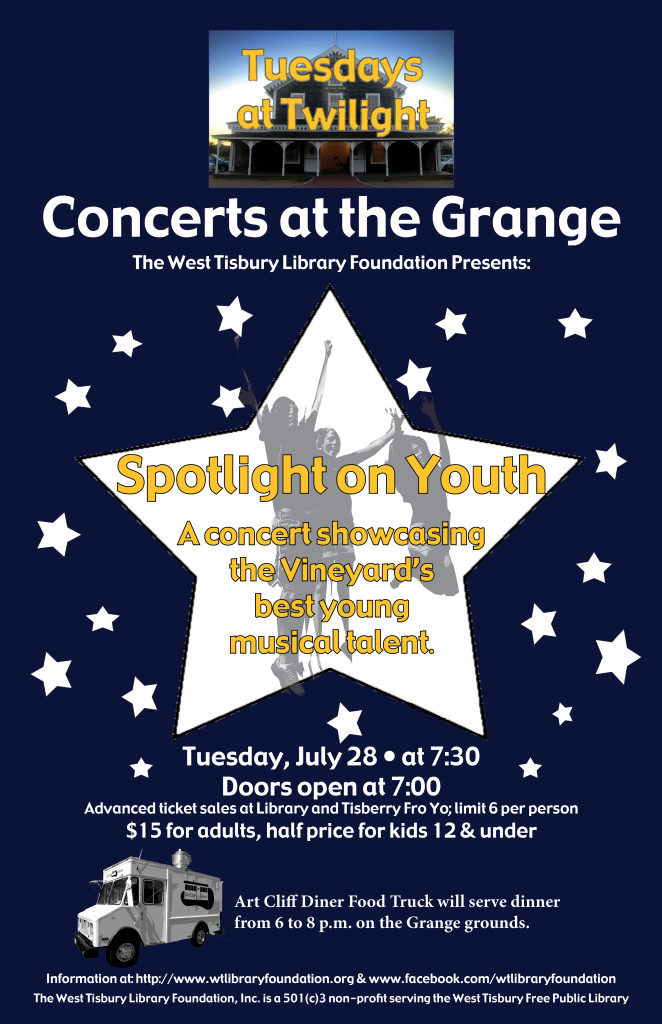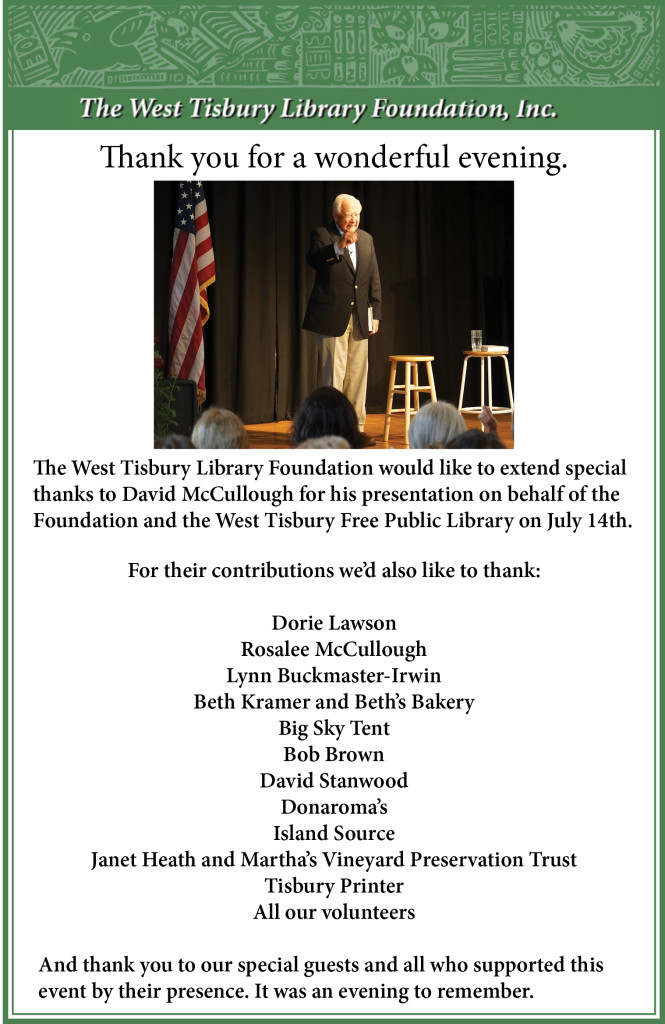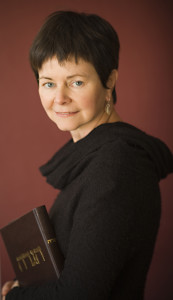 photograph by  Randi Baird
Author and West Tisbury resident, Geraldine Brooks, will participate in a Speakeasy Series on Wednesday, April 8th at State Road Restaurant to benefit the West Tisbury Library Foundation. Brooks will provide a sneak preview of her forthcoming novel, The Secret Chord, to be launched by Viking in September with an 18-city US tour. The Pulitzer Prize winning novelist has plunged further back into the past than ever before, imagining the life of King David in the Second Iron Age in Israel as seen through the eyes of Nathan, the royal counsellor who dares to criticize his king. Brooks will read from her new book and invite a discussion about historical fiction, and how you research a subject like David, who shimmers between myth and history.
Many thanks to novelist Ward Just ( author of 18 novels, his latest book is "American Romantic," and  historian Paul Schneider (author of five books including most recently "Old Man River: The Mississippi River in North American History") for an delightful and informative evening.
Thank you to everyone especially Mary and Jackson Kenworth, owners of State Road Restaurant, for hosting a wonderful evening on behalf of the West Tisbury Library Foundation.
The next Speakeasy session is scheduled for October 28.
Last Speakeasy for this Year
Thank you to authors John Hough Jr., Ward Just and Paul Schneider, our patrons and State Road Restaurant.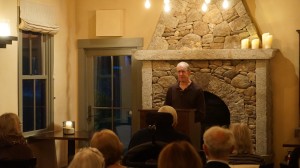 Thank you John Hough, Jr. for a wonderful book talk on "Little Bighorn" at last night's West Tisbury Library Foundation's last Speakeasy of the season. To Mary and Jackson Kenworth (owners of State Road Restaurant) for providing a beautiful venue, lovely appetizers and wine, our gratitude for your ongoing support of the West Tisbury Free Library.
---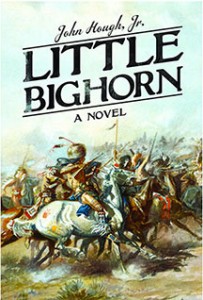 The next Speakeasy will be on October 28 at State Road Restaurant from 5:30 – 7:00.
John Hough Jr., author of five novels including the recently published, "Little Bighorn", will be the featured speaker.
John Hough, Jr's books include Seen the Glory: A Novel of the Battle of Gettysburg, which won the American Library Association's 2010 W. Y. Boyd Award.  His latest novel, Little Big Horn was recently released to critical acclaim:
"Little Bighorn is every bit as remarkable as Larry McMurtry's Lonesome Dove. The characters are vivid, the tension palpable and the dialogue unfeigned. Jon Hough, Jr. is one of the great American novelists alongside Cormac McCarthy and Jonathan Franzen."
-Robert Dugoni, bestselling author of Jury Master, Damage Control and others. 
---
Many thanks to novelist Ward Just ( author of 18 novels, his latest book is "American Romantic," and  historian Paul Schneider (author of five books including most recently "Old Man River: The Mississippi River in North American History") for an delightful and informative evening.
Thank you to everyone, especially Mary and Jackson Kenworth, owners of State Road Restaurant, for hosting a wonderful evening on behalf of the West Tisbury Library Foundation.
---
2014 Speakeasy Series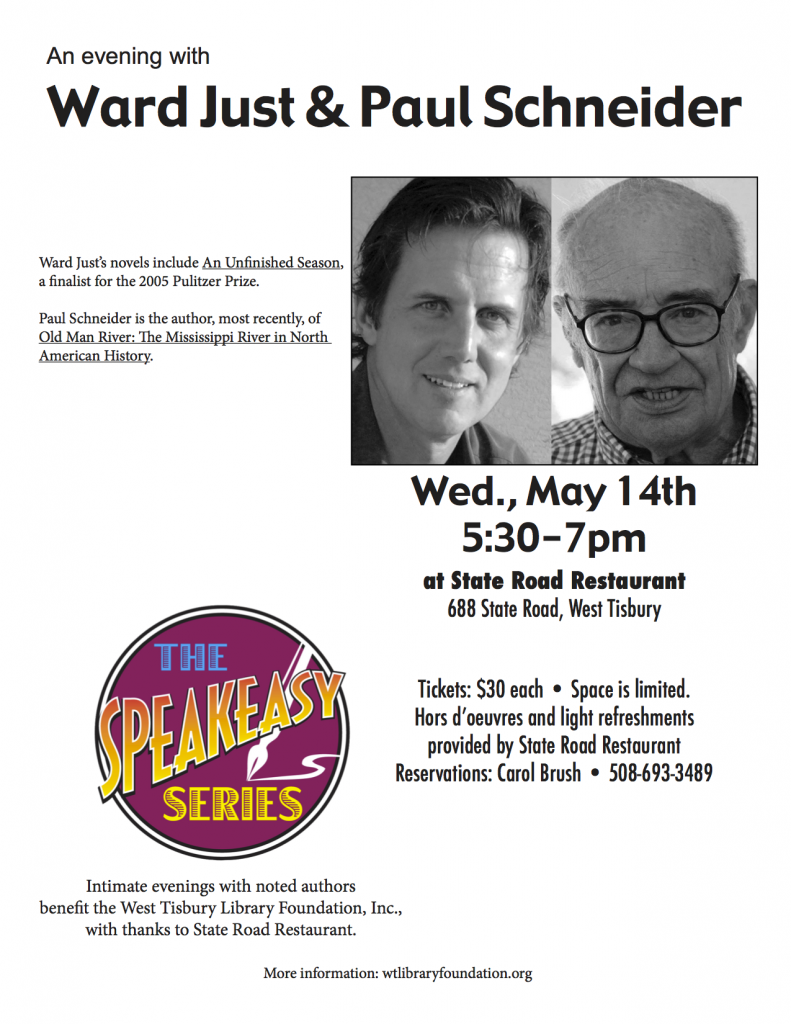 May 14 – West Tisbury Library Foundation presents an evening with authors Ward Just and Paul Schneider. 
Friends and fellow authors, Ward Just and Paul Schneider will participate in a Speakeasy evening on May 14, 5:30-7:00 at State Road Restaurant to benefit the West Tisbury Library Foundation.
Ward Just 
Often compared to Fitzgerald, O'Hara, Wharton, and Hemingway, Just is known for his keen understanding of the nature of ambition and is lauded for his astute observations of the private lives of public people.
Judith Martin wrote in the New York Times Book Review, Just is "not only the most literary chronicler of the daily lives and moral dilemmas of contemporary politicians, bureaucrats, intelligence agents, military officers, diplomats, lawyers, and journalists, but one of the few novelists even interested in picturing such people realistically."
Just comes by such realism honestly.  The son and grandson of newspaper publishers (the Waukegan News-Sun and the Libertyville Independent Register), Just began his writing career in the early 1960s as a journalist, working first for the family newspapers and then at the Chicago, Washington, and London bureaus of Newsweek magazine.  He eventually joined legendary editor Ben Bradlee at The Washington Post, where Bradlee sent Just to Saigon to cover the Vietnam war.  His reporting was considered some of the best to emerge from that arena.  According to David Halberstam, "perhaps no reporter working for a major daily paper wrote as well from Vietnam, with as much subtlety and grace as he did."
But journalism was not in Just's blood the way it must have been for his father and grandfather.  After returning from his two-year stint in Vietnam, Just left The Washington Post to concentrate on writing fiction based on his experiences in both Vietnam and as a political correspondent in Washington.
Just is the author of nineteen books.  He has won National Magazine Awards for nonfiction (1970) and fiction (1980); the Washington Monthly Award for political fiction (1973); the Chicago Tribune Heartland award (1989); was finalist for the National Book Award for fiction (1997); received a book of the year citation from the New York Times (1999) and a notable book citation from the American Library Association (1999); and was nominated for the Pulitzer Prize for fiction in 2005 for An Unfinished Season.
Paul Schneider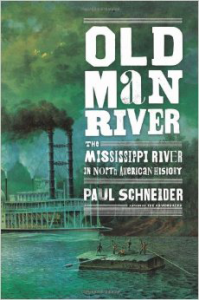 Paul Schneider is the author, most recently, of Old Man River: The Mississippi River in North American History (Henry Holt, 2013), which Publisher's Weekly, in a starred review, called "an astonishing journey." He is also the author of Bonnie and Clyde: the Lives Behind the Legend, (Henry Holt, 2009), which the LA Times called "extraordinarily immediate," and O, the Oprah Magazine said was "a biography so real it feels like an act of ventriloquism."  He is also the author of the widely acclaimed Brutal Journey: Cabeza de Vaca and the Epic first crossing of North America, The Enduring Shore: A History of Cape Cod, Martha's Vineyard, and Nantucket, and The Adirondacks: A History of America's First Wilderness, which was a New York Times Notable book of the year.  Paul is currently Editor  of Martha's Vineyard Magazine.
The May 14th  Speakeasy with Ward Just and Paul Schneider begins at 5:30 p.m. and will be held at State Road Restaurant, 688 State Road, West Tisbury. Hors d'oeuvres and light refreshments will be served. The price per ticket is $25 per person. Space is limited, so early booking is advised. For more information, or to make reservations, call Carol Brush: 508-693-3489.
The West Tisbury Library Foundation, Inc. was incorporated "to promote and advocate for the expansion, improvement, maintenance and support of the library buildings, collections, programs and services of the West Tisbury Free Public Library."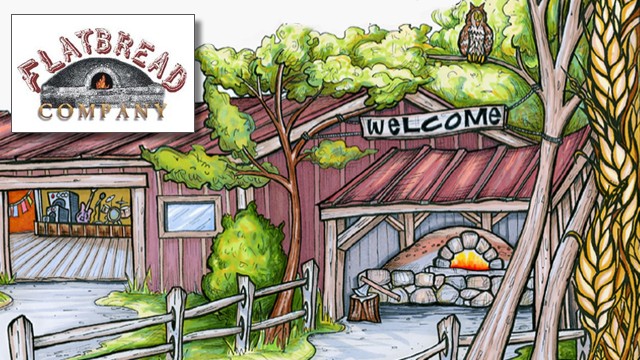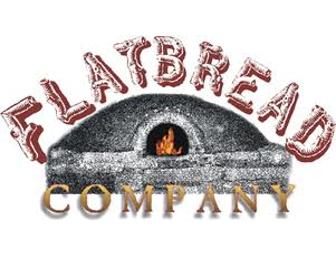 Tuesday, July 16, 2013, 5 to 9 p.m.
West Tisbury Library Night at Flatbread Company, at the Martha's Vineyard Airport! Great pizza and entertainment, with a portion of the food proceeds to benefit the West Tisbury Library Foundation, Inc.'s capital campaign.
Information: Catherine Brannen, 508-939-1350.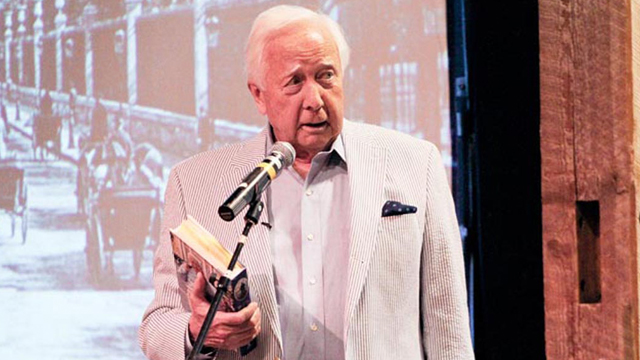 Photo chronicle of the Capital Campaign. From receiving the grant in 2011, and prize-winning historian David McCullough speaking to a full-capacity Agricultural Hall to launch the campaign, numerous talented authors speaking to appreciative audiences, musicians playing sold-out venues, to very young volunteers selling lemonade, West Tisbury Library Foundation is truly grateful for all your support.
Click on any of the images below to begin the slideshow.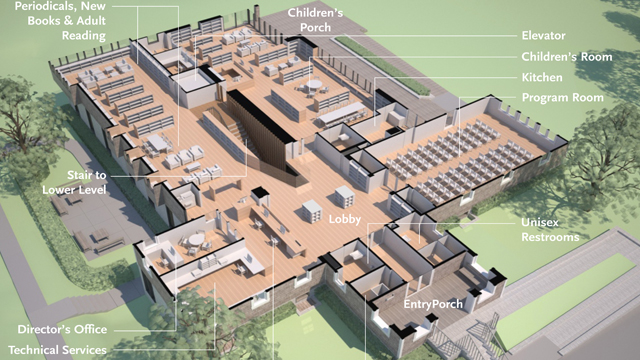 When the Foundation reached its goal of $1.5 million earlier this spring, it paved the way for West Tisbury voters to contribute the town's share of $1.5 million for the library. With the state's nearly $3 million construction grant secured, the $6+ million library construction funding was complete and the project got the green light. The project is expected to break ground in mid-November.
The current plans will give the library the additional space it has needed for decades: space for a program room, a unified children's room, and a director's office, among other things. The plans also contain a host of significant environmental features. However, putting patron services first meant cutting back on several desirable eco-friendly elements. We are now seeking an additional $325,000 to fund three enhancements of major environmental and aesthetic value:
• Parking lot infrastructure that's safe and protects the water supply and wetlands;
• Healthy and long-lasting hardwood flooring in place of carpeting; and
• Landscaping that provides a harmonious relationship with the surroundings.
We are deeply committed to the safety, health benefits, energy efficiency, environmental protection, and natural beauty these features afford.  So we ask you to join us in finding the money to pay for them.  Contributions of all sizes are needed and welcome.  In addition, there are naming opportunities, for instance in memory of a loved one, in the building itself and in four gardens that we hope to create outside.  Please turn to The Case for a Green Library for descriptions of your donation's benefits to water supply and wetlands, individual health and safety, energy efficiency, cost savings, and the beauty of our surroundings.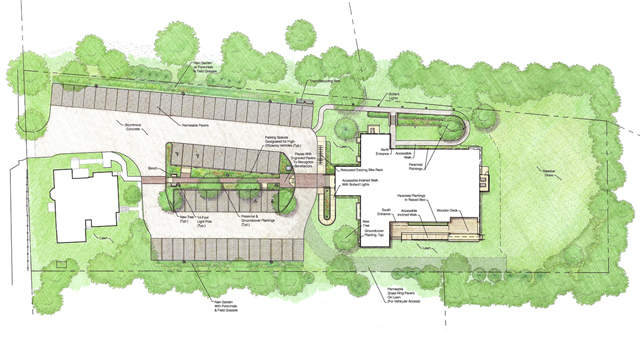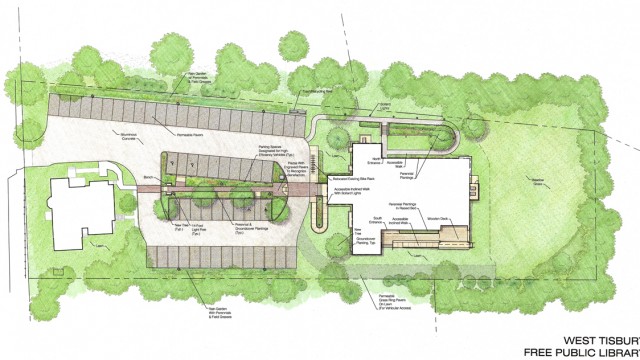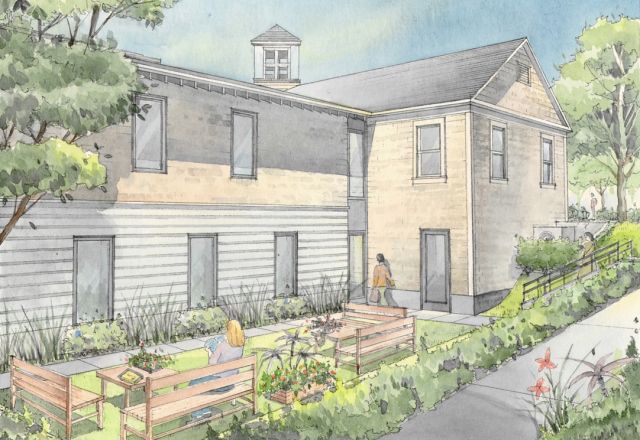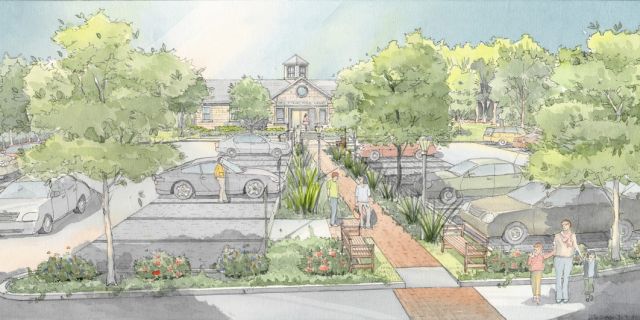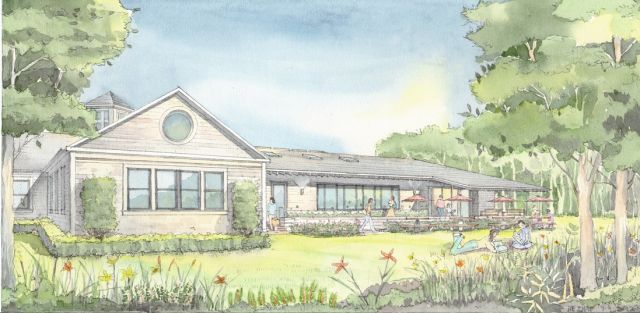 Prev
Next
Protecting the environment is a high priority for the West Tisbury Library expansion project. Resource efficiency, waste reduction, and a healthy environment have been a part of our planning at every step along the way. Minimizing the building's carbon footprint and its demands on Island resources are just the start; there will be also be significant and ongoing savings in operating and maintenance costs over the years.
Energy efficiency and water-protecting technology have already been designed into the building wherever possible. These features will earn the library LEED certification (Leadership in Energy and Environmental Design) from the U.S. Green Building, garnering additional funds from the state and signaling our commitment to environmental care.
But there are three other significant environmental features we could not include under the current budget, features essential to protecting our built and natural environments: an ecologically sensitive parking area, hardwood flooring, and landscaping.
More than a parking lot: A safety net for water
Perhaps surprisingly, parking lot design has a lot to do with water quality as well as patron safety and convenience. The library's parking lot will be surfaced with a combination of standard impervious asphalt (in the drive lanes) and pervious precast concrete pavers (in the parking areas), with a 12-inch stone underlayment and perimeter "rain gardens." These features will diminish the "heat island" effect typical of asphalt parking lots. Moreover, they will reduce concentrations of pollutants and promote rapid, more thorough water filtration, ensuring that the delicate web of wetlands and ponds beginning at the end of the library property and running all the way to the great pond and ocean is free of noxious chemicals and other harmful runoff. There will be a total of 56 spaces, 18 for the Howes House and 38 for the Library. Four of those spaces will be handicapped accessible, with pavers smooth enough for a wheelchair or person with disabilities to walk or roll over safely. Both this evenness and the rapid dispersal of water will also facilitate winter plowing and reduce icing.
Hardwood floors: A smart long-term investment
Sustainability, hygienic material, and lower life-cycle costs make hardwood an economical and environmentally sound choice for the library flooring. Flooring accounts for a high percentage of indoor surfacing, and can have a significant effect on indoor air quality. Finished with low-VOC sealants, (volatile organic compounds), hardwood floors contribute to clean air while providing no habitat for molds and funguses (a Vineyard hazard). Moreover, harvested legally and responsibly, the supply of American hardwoods is actually growing, and locally available products incur lower transportation costs and keep the economic benefits nearby. Finally, although the upfront costs of hardwood are substantially higher than commercial carpeting, its costs over a 15-year period are less than half those of the alternatives.
Caring for the earth, tending the gardens
West Tisbury is home to the Agricultural Society, the Polly Hill Arboretum, the Martha's Vineyard Garden Club, the Farmer's Market, and numerous family farms and nature preserves. Given our rural heritage it's fitting that our library, too, should embrace a respect for nature and love of the landscape. The terraces and gardens to the north, east, south and west of the library provide exceptional opportunities to landscape with native plantings, encourage the growth of beneficial local bees and other insect populations, provide shade and break the wind, firm up the earth and aid in filtration, and beautify the surroundings.
These spaces present opportunities for donors with a passion for gardening and landscaping, especially using native materials and species. Each area is an invitation to create a setting, make a statement, and perhaps remember a special person or favorite cause.
There are opportunities for naming in each of the garden areas as well as in the building itself. Please contact the Foundation for details!
A final word: Teaching by example
More than just a collection of materials, a good library is an ongoing, evolving conversation with the community it serves. That conversation asks questions, proposes challenges, and spurs healthy growth. When the library reopens, its staff will have lived through an experience that changes this town institution forever. They'll be in the unique position to tell the story of every decision, every feature, and the varied reasons for choices made in materials, design and technology.
Our island struggles with the consequences of growth daily, and all construction has a profound impact on the local environment. There are always newer and better ways of building and serving the environment, and having a prominent, publicly accessible example of green construction will be an important resource to owners and builders who would like to explore ways to protect our common home. Our expanded and improved library will be an important teaching resource and living laboratory for the community. Some examples:
• A super-insulated envelope reduces requirements for heating and cooling;
• Composting toilets reduce nitrogen put into the ground;
• Future photovoltaic capacity built into the south-facing roof;
• Skylights and lighting controls improve lighting quality;
• Energy Star appliances reduce energy usage;
• Natural and mechanical ventilation increase occupant comfort;
• VRF heat and air with heat recovery is more efficient than fossil fuel system;
• Low-flow fixtures reduce water consumption 30 – 40% over code;
• Low VOC emitting materials and finishes meet "Green Seal" requirements;
• Recycling and reuse of more than 75% of demolition and construction waste; and
• Rapidly renewable/durable, regional, and recycled materials cut costs and reduce harm to the environment.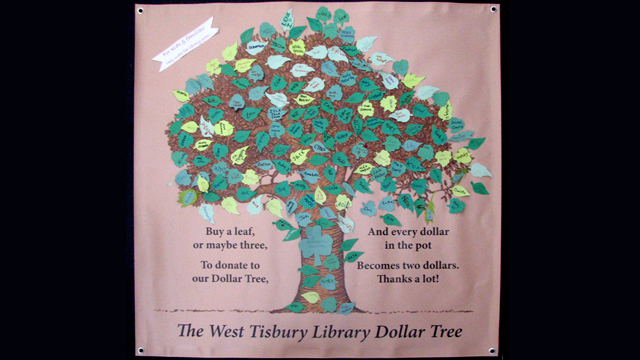 The West Tisbury Library Foundation, Inc. announced this week that their "Dollar Tree" campaign had reached its thousand-dollar goal in less than a year.
In November of 2011, an anonymous donor offered to match every $1 donation given to the West Tisbury Library Foundation, Inc., up to the amount of $1,000. Each donation added a leaf, inscribed with the donor's name, to a tree on the library wall. The challenge was inspired by the campaign to renovate and expand the West Tisbury Free Public Library, and the "dollar tree" was to benefit the new Children's Room.
"The Dollar Tree has flourished and borne fruit," said Foundation chair Hunter Moorman this week. "Dollar by dollar, we've more than reached our target. It's living proof that even the smallest donations count."
"The original donor's intention was to encourage the participation of families with children," said library director Beth Kramer. "The hope was that they could feel excited about the library, and about giving to the library. But even families with grown children were encouraged to participate. There are whole generations of people on the Island who have fond memories of the West Tisbury Library as children."
The West Tisbury Library is on schedule to break ground in November. The start of the project will be celebrated at a party at the Grange on November 17, to thank the community for its support. Construction should last about a year, during which the library will be open in temporary quarters across from Conroy's Apothecary.