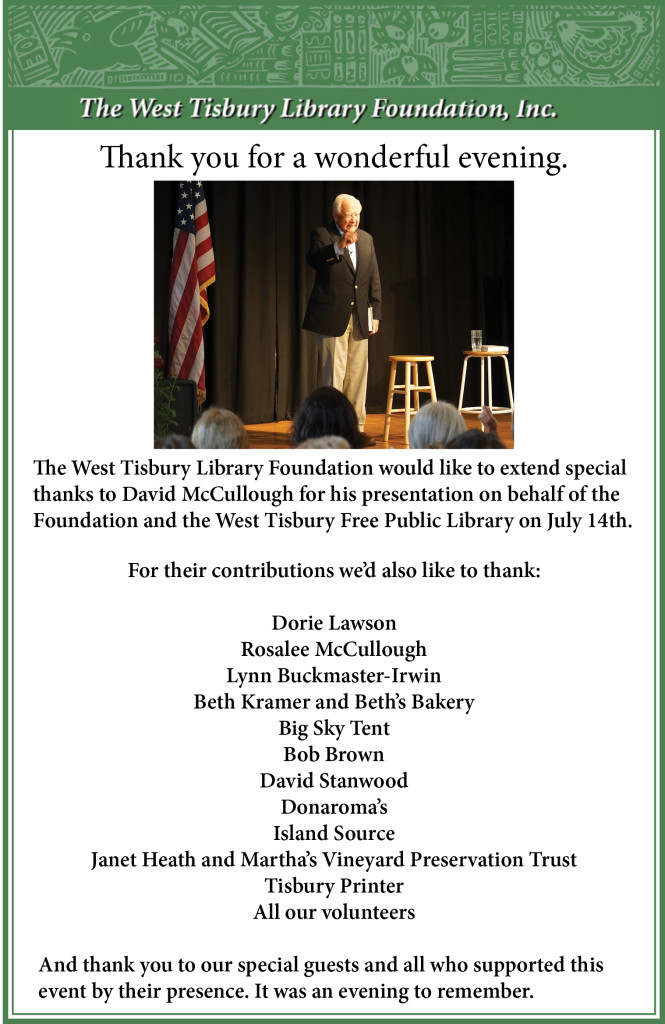 By Alex Elvin Friday, July 17, 2015
More than 100 people gathered in the West Tisbury Grange Hall on Wednesday to hear Pulitzer Prize-winning author David McCullough talk about his new book, The Wright Brothers. Tickets sold for $100, with all profits going to the West Tisbury Library.
At around 7 p.m., with overhead fans providing some relief to the evening heat, Mr. McCullough emerged from behind a black curtain on the stage, wearing a blazer, khakis and a bow tie. He carried a copy of his book, which tells the story of the two bicycle mechanics from Ohio who changed the world with their achievement of mechanical flight.
Since the book's release in May, Mr. McCullough has spoken to thousands of people around the country about the project. "Rarely have we ever known anyone," he said Wednesday, to a standing-room-only crowd that included friends and family.
"Surely one of the most obvious lessons in history is that almost nothing is ever done alone," he said, speaking deliberately and without notes. "It's a joint effort." He noted the many people who made the book possible, including his wife Rosalee, who was also in attendance. Mr. and Mrs. McCullough lived in West Tisbury since the 1960s.  – MORE –
Thursday, June 11, 2015
Pulitzer-Prize winning historian and author David McCullough, a longtime West Tisbury resident, will be speaking at the Grange Hall in July for his only public event on the Vineyard this summer.
Mr. McCullough will be talking about his new book The Wright Brothers on Tuesday, July 14 at 7 p.m. The evening is a fundraiser for the West Tisbury Library Foundation.
Mr. McCullough and his wife, Rosalee, have long been supporters of the West Tisbury Free Public Library. In July 2014, the community room at the newly-renovated library was dedicated to the McCulloughs.
The Wright Brothers tells the behind-the-scenes story of flight pioneers Wilbur and Orville Wright. Mr. McCullough will talk about the book and also about the research that went into it.
Tickets for the July event are $100 for general seating; reservations are required. A limited number of premium seats are available for $500, and those ticket holders will be invited to a reception with Mr. McCullough. Call 508-696-9539 for tickets. – MORE –
By Juliana da Silva – Jun 5, 2015
David McCullough will speak to benefit the West Tisbury Library Foundation. Mr. McCullough will talk about his newly published well-reviewed biography, The Wright Brothers, and the research behind it.
Tickets for the event are $100 for General Seating and reservations are required. There are also a limited amount of Premium Seats still available for $500. These ticket holders will be invited to a reception with Mr. McCullough. Call (508) 696-9539 to reserve tickets.
This will be the only event David McCullough will hold on the Island this summer so it's suggested that tickets be reserved early. – MORE –
Sold out!
By Alex Elvin – April 30, 2015
On May 30, 1899, Wilbur Wright sat down at a small desk in the house that he shared with his brother, sister and father and wrote one of the most important letters of his life. "Indeed, given all it set in motion, it was one of the most important letters in history," David McCullough writes in his newest book, The Wright Brothers, to be released Tuesday by Simon and Schuster. In the letter, addressed to the Smithsonian Institution in Washington, D.C., Wilbur noted his lifelong interest in flight and his firm conviction that "human flight is possible and practicable." He announced his plans to begin a "systematic study" and asked the Smithsonian for any material they had published on the subject, along with a list of related works in print. – MORE –
On Sunday, July 20th, a public dedication of the Community Program Room at the new West Tisbury Free Public Library was held in honor of the leadership and community support provided over many years by David and Rosalee McCullough. Mr. McCullough has served as West Tisbury Library Foundation Honorary Chairman since the Foundation's inception 2010.Over hundred people came out on a rainy evening for the event.
Hunter Moorman, Foundation Chairman, welcomed the enthusiastic crowd and expressed his thanks to all those whose hard work and financial contributions had made the new Library possible.
Richard Knabel, West Tisbury Selectman, pointed out how the new Library was a wonderful example of how private and public sectors can work together toward a mutual goal.
Dan Waters, Library Trustee, recalled the early days of planning the new Library and the instrumental role David and Rosalee McCullough played in getting the project off the ground and bringing it to fruition.
Hunter Moorman then presented McCullough with the symbolic key to the new Library. In his remarks, McCullough expressed his faith in the national public library system, something that is unique to our country, and what a wonderful resource the new West Tisbury Library provides to the community.
by Tony Omer,  
The West Tisbury library board of trustees and the library foundation Sunday dedicated the new community program room of the newly renovated and enlarged West Tisbury public library to David and Rosalee McCullough. Hunter Moorman, chairman of the West Tisbury library foundation, thanked the McCulloughs and, in particular, Mr. McCullough for his four years as honorary chairman of the library foundation. A full presidential term, he noted, to laughs from the full house.
The McCulloughs, West Tisbury residents, were instrumental in raising funds to help pay for the $6 million dollar project. They were early donors to the project and in his role as honorary chairman of the foundation, Mr. McCullough, an acclaimed historian and author, drummed up support and funds; the library foundation ultimately raised over a quarter of the construction costs. The town picked up almost a quarter and almost half of the project's cost was funded by matching funds from the state. The old 5,640-square-foot library was enlarged to 13,000 square feet and opened on March 22, after a 14-month construction period.  –MORE –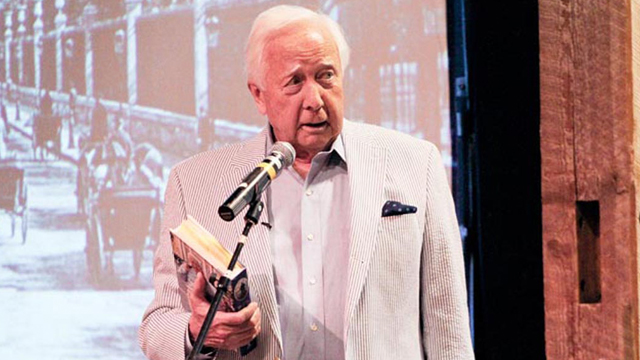 Photo chronicle of the Capital Campaign. From receiving the grant in 2011, and prize-winning historian David McCullough speaking to a full-capacity Agricultural Hall to launch the campaign, numerous talented authors speaking to appreciative audiences, musicians playing sold-out venues, to very young volunteers selling lemonade, West Tisbury Library Foundation is truly grateful for all your support.
Click on any of the images below to begin the slideshow.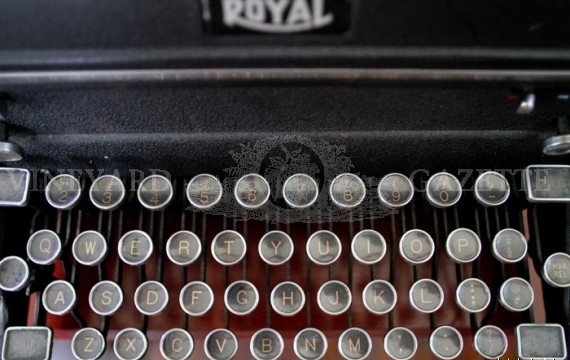 Leading up to our July 20th event at Ag Hall — "An Evening with David McCullough" — Mike Seccombe wrote a very nice piece in The Vineyard Gazette about our neighbor and his new book and which I'm sure you'll enjoy. Kindly use the link below.
In his talk, Mr McCullough thanked a few of the many people who, he said, made the book possible — emphasizing the editorial contributions of his wife, Rosalee. We locals know that Mr McCullough does not consider himself a writer first; that his story-telling comes across with such economic force and mellifluous inevitability because he & Rosalee edit by the sound of his prose when it is read out loud. (Writers of every stripe should heed this note.)
He seems to speak extemporaneously, with wit and so much more for the audience than himself. He said this was his favorite book (by far) to write due to the great amount that he learned in its four years of research, writing, travel, thinking and rewriting.
Among so many memorable anecdotes and much rich information from the book (including a slideshow featuring key images), he mentioned that the diary of Elihu Washburne (US Ambassador to France during the Franco-Prussian War) — unpublished as yet — was a true historiographical find and one of the most exciting in McCullough's long & decorous career.
Needless to say, the Evening was a sold-out success, and we are all running out to get the book: The Greater Journey: Americans in Paris. He's reached the point where his depth of knowledge & personal integrity lead to a unique interpretive power. Look for this to be on the Pulitzer list.
From the Gazette in anticipation of the event …
David McCullough laughingly calls the pretty little eight-by-10-foot structure in his back yard his "world headquarters." Naturally, he was keen to pass on the details of its architecture and history.

"This is where I've worked since 1972," he said. "It was built by Alan Miller, an artist with carpentry. He built the Black Dog in Vineyard Haven. He built numerous buildings around the Island, all distinctive."
On the West Tisbury Free Public Library …
"West Tisbury has an extraordinary characteristic, that I don't believe could be claimed for any other town, that I know of anyway," he said. "Eighty-nine per cent of the population of West Tisbury has a library card. You can double check that with the librarian."