2014 Authors in Film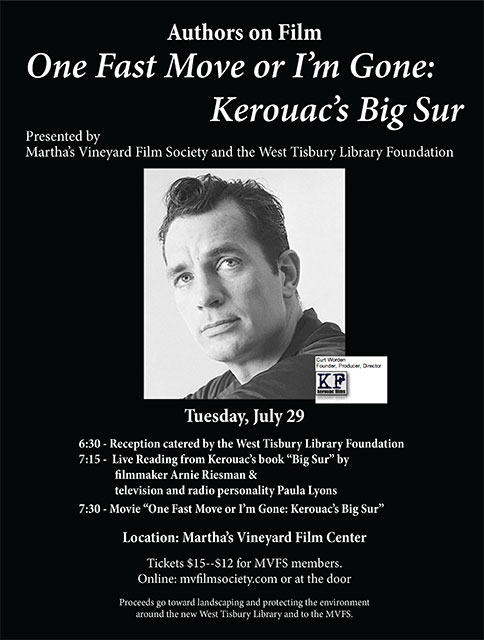 July 29 at the Martha's Vineyard Film Center
One Fast Move or I'm Gone: Kerouac's Big Sur
Authors on Film
One Fast Move or I'm Gone: Kerouac's Big Sur.
at the Martha's Vineyard Film Center
On July 29th, the Martha's Vineyard Film Center and the West Tisbury Library Foundation present a showing of One fast move or I'm gone: Kerouac's Big Sur at the Martha's Vineyard Film Center. The movie examines Jack Kerouac's escape from post On The Road fame to his dream of an isolated retreat in a cabin at Big Sur where he searches for inner peace.
In addition to the film, there will be a special live reading from Kerouac's book Big Sur by radio personality, author and filmmaker Arnie Riesman and television and radio personality Paula Lyons.
Preceeding the film there will be a reception starting at 6:30 p.m. The reading will begin at 7:30 p.m.
Ticket prices will be $15–$12 for MVFC members.
Proceeds go toward landscaping and protecting the environment around the new West Tisbury Library and to the MVFS.
The West Tisbury Library Foundation, Inc. is a 501(c)3 non-profit serving the West Tisbury Free Public Library.